Garder la Pêche
January 25, 2013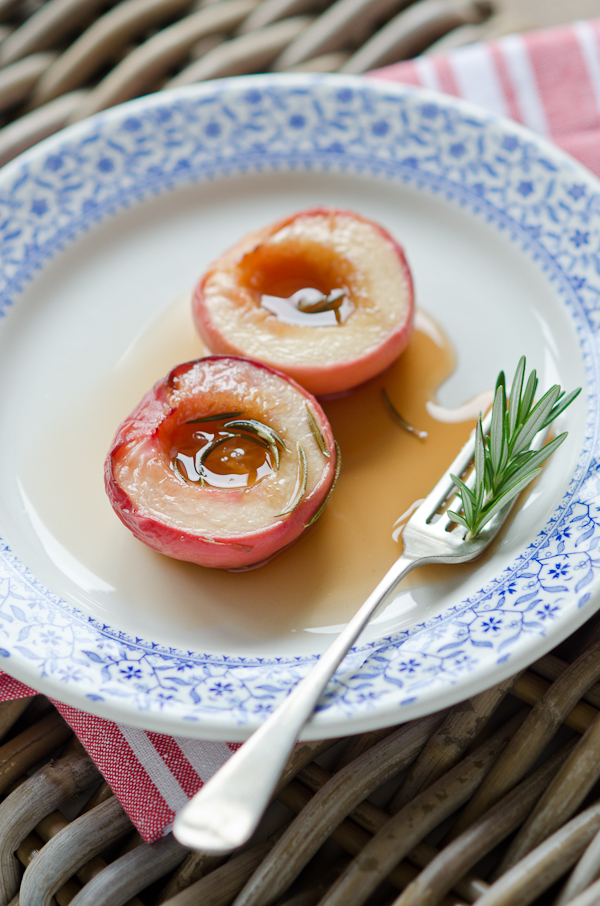 I remember it was the day before we left Europe. We went to an orchard nearby Székesfehérvár. At the entrance we were given directions to find our way in the orchard. We drove on a dirt road under the striking midday sun and reached the long rows of trees. The summer was particularly hot and trees were laden with fruits. Peaches were all ripe for picking. And we did pick a lot that day. Buckets full. Two different types of peach, both very flavourful. Jutka, Paprika's mother, preserved most of them for the long winter months.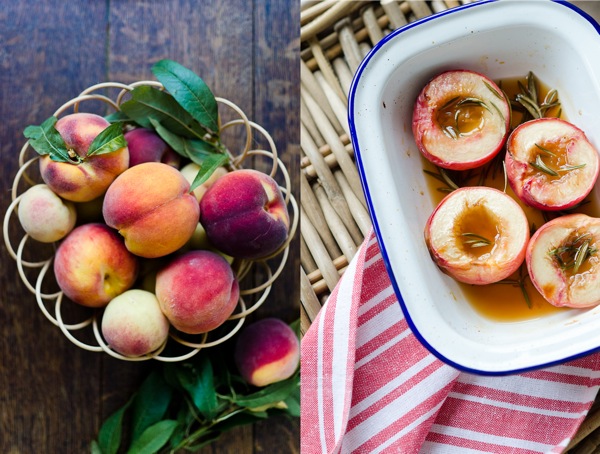 Back down here now, where summertime is in full swing and stone fruits are everywhere. I load my bag every week at the farmers market with nectarine, peach and all.
I was rather disappointed last time though, when the peaches I had chosen were bland. In that kind of disappointing moment, your imagination is your best help... And cooking them seemed the way to go.
Very simple and aromatic the peach is roasted and infused with the flavour of rosemary. A nice combination I did not have the occasion to try yet. Paprika and I both liked it. I'm already thinking of making it again and serve it with a crumble crust baked separately. Soft and crunchy, will make a nice contrast of textures.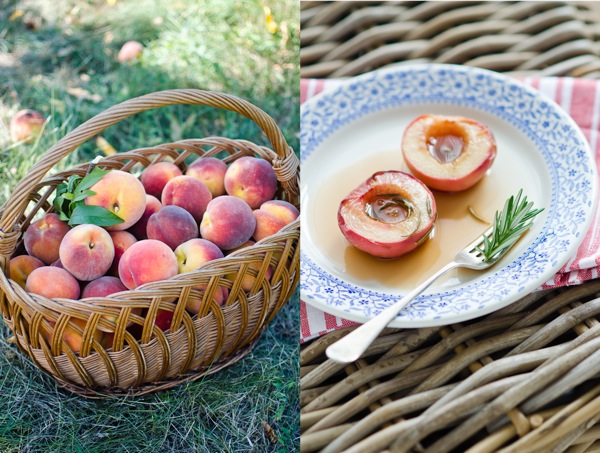 Roasted Peach with Rosemary for 2

2 peaches, halved and stone removed 2 tbsp brown sugar 2 rosemary sprigs Water

Preheat oven to 200˚C (400˚F). In a shallow dish place rosemary sprigs on the bottom of the dish and keep a piece for the top of the fruits. Then place peach halves, cut side up. Sprinkle sugar on top of fruits and around. Add rosemary on top and a couple of tablespoons of water on the bottom of the dish. Bake for 25-30 minutes until the peach is just soft and the sugar have turn into a nice golden syrup. Serve warm or cold with a dollop of cream.

_ _ _ _ _ _ _ _ _ _ _ _ _ _ _ _ _ _ _ _ _ _ _ _ _ _ _ _ _ _ _

Je me souviens c'était la veille de notre départ d'Europe. Nous sommes allés dans un verger aux environs de Székesfehérvár. A l'entrée nous avons reçu les directions pour trouver notre chemin dans le verger. Nous avons conduit sur une route poussiéreuse sous le soleil écrasant de la mi-journée et avons atteint les rangées d'arbres. l'été était particulièrement chaud et les arbres étaient chargés de fruits. Les pêches étaient toutes prêtes pour la récolte. Et nous en avons collecter beaucoup ce jour là. Des seaux entiers. Deux différents types de pêche, toutes deux très gouteuses. Jutka, la mère de Paprika les a préservé en prévision des longs mois d'hiver.

Retour down under à présent, où l'été bat son plein et les fruits à noyau sont partout. Chaque semaine je fais le plein au marché de nectarines, pêches et autres...

J'ai été quelque peu déçue la dernière fois néanmoins, lorsque les pêches que j'avais choisi étaient fades. Dans ce moment de désillusion, l'imagination est la meilleure aide... Et cuire les pêches semblait ce qu'il y avait de mieux à faire.

Très simple et parfumée, la pêche est cuite au four et infusée avec l'arôme de romarin. Une bonne association que je n'avais pas eu encore l'occasion d'essayer. Paprika et moi avons bien aimé. Je pense déjà le refaire et les servir avec une croûte de crumble préparée séparément. Tendre et croquant, devrait faire un bon contraste de textures.

--- ## Comments > *This recipe and the accompanying (beautiful) photos make my yearning for Summer all the worse...still freezing and grey up North in England.* > **[bea](http://hemulening.wordpress.com)** > *So many of the modern varieties of peach are bland. It is always so sad. There is a white fleshed peach we used to grow in our childhood garden in NZ. it is such a rich peachy peach. Maybe one day you will find one. But until then this is a superb! c* > **[cecilia](http://thekitchensgarden.wordpress.com)** > *Wow, beautiful and so scrumptious!* > **[Assia](http://assiaskaleidoscope.wordpress.com)** > *Such beautiful photos that make the food look even better! Lovely blog.* > **[izzyburton](http://izzyburtonart.wordpress.com)** > *Peaches are divine. I really like this flavor combination. Interesting and refined. Cheers, Rosa* > **[Rosa Mayland](http://www.facebook.com/Rosa.J.May)** > *What a lovely combo - peach and rosemary. I will have to try this next peach harvest. Enjoy :)* > **[Nicola Galloway](http://blog.nicolagalloway.com)** > *Lovely photos! Fantastic blog! I think it's the only one I know that's bilingual like mine:) Really lovely!!* > **My French Heaven** > *Rosa, I find the combination interesting to say the least. Nicola, hopefully you'll like it too ;) My French Heaven, Merci. A good way to maintain your mother tongue. Bea, happy to read I could bring you a sample of summer all the way up to England. Cecilia, I'm generally very satisfied with NZ fruits and rarely disappointed. Just not lucky this time I guess. This won't deter me from picking tomorrow new ones at the farmers market. Assia, thank you ! IzzyBurton, thank you ! Growthbytheseason, you're welcome ! My pleasure ! Mary, you'll love it !* > **[Vanille](http://atdownunder.wordpress.com)** > *yes please! as a georgia native (the official peach state), i can't wait to try this. and your photos are oh so so lovely.* > **[mary @ B&Gjournals](http://bgjournals.com/)** > *What i wouldn't give to enjoy a fresh peach in January!! Thank you for the warm reminder of the freshness to come after a Northern Michigan thaw!* > **[growthbytheseason](http://growthbytheseason.wordpress.com)** > *Sounds interesting. I have to try this combination of flavors soo :)* > **[Bluejellybeans](http://bluejellybeans.wordpress.com)** > *I have been grilling stone fruit, with a bit of icing sugar, and the result is delicious. I must try your recipe too. Love your blog, and the photos are fantastic.* > **[traceyk11](http://lemonslimes11.wordpress.com)** > *Ca donne drôlement envie ces pêches parfumées au romarin !* > **Gisèle** > *Hello from an Australian born Hungarian girl downunder! Have just discovered your blog and am reading with interest! My parents often spoke of Székesfehérvár, however I didn't manage to visit there when I went to Hungary to see family on two occasions. I look forward to keeping in touch with you and will check in on twitter and FB ; )* > **[Lizzy (Good Things)](http://www.bizzylizzysgoodthings.com)** > *Oh yes! The Hungarian peaches are juicy and sweet! I always eat the best peaches in Hungary. I'm looking forward the summer so I can make this easy dessert!* > **[Zita Nagy (@ziziadventures)](http://twitter.com/ziziadventures)** > *[...] If you have peaches that aren't quite perfectly ripe and juicy, a little spin in the oven with rosemary and brown sugar is a great way to spruce them up. Recipe here. [...]* > **[Food – Delicious Things To Do With Rosemary | Everything Cool](http://stackingthecool.wordpress.com/2013/04/25/food-39-delicious-things-to-do-with-rosemary/)** > *[…] atdownunder.com […]* > **[39 Delicious Things To Do With Rosemary | My Blog](http://billiondollarmindset.us/blog/2017/05/18/39-delicious-things-to-do-with-rosemary/)**