Shades of Green
November 01, 2012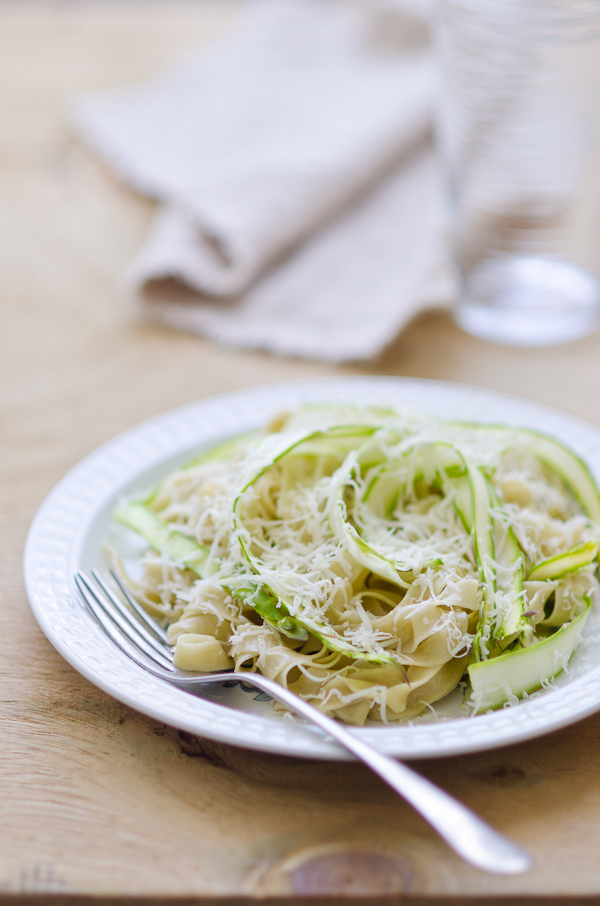 There's something special about seasonal food. There's a sense of anticipation knowing it should arrive soon; excitement as it finally graces the table and ultimately satisfaction after the first bite. So did I feel last night when I tasted the first artichoke leaf with the base dipped in vinaigrette. I rarely prepare a starter for our daily meals, but this time was a simple and delicious exception. And for a second, I remembered the appeal that it was to eat artichoke as a child. An attraction mainly due to the process of peeling each leaf, dipping them in the dressing, discarding the choke to finally reach the heart...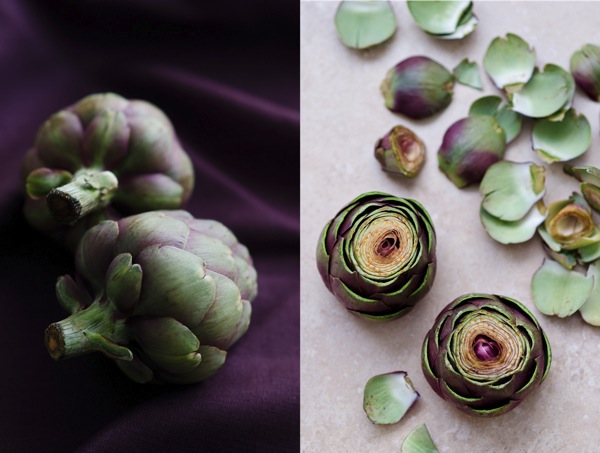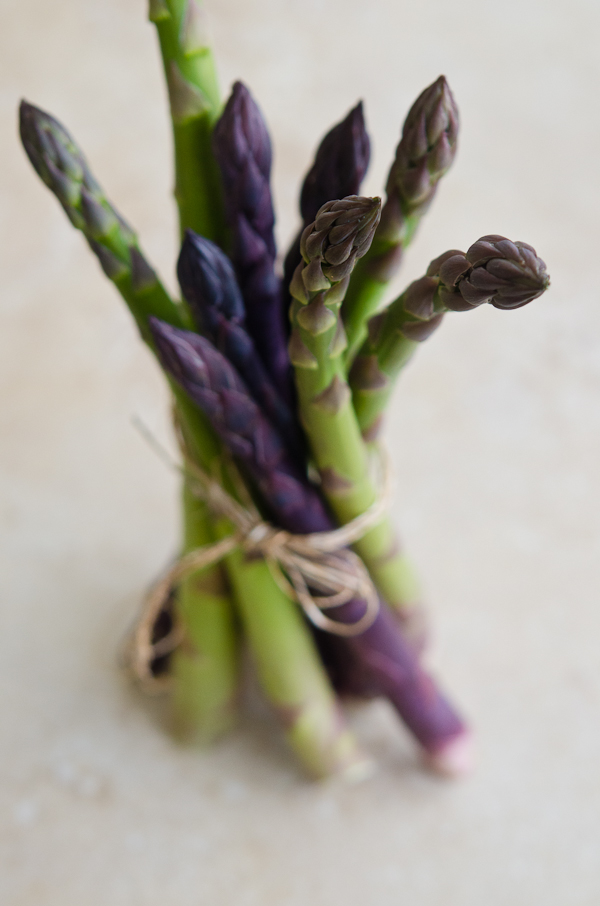 So no spooky food in sight last night for us, but a main colour scheme -green. After starting with artichoke, we continued with asparagus, featured in the main. I loose count of the number of times I have eaten asparagus since the beginning of the season. With pasta, baked on pizza, on bruschetta or in savory clafoutis, asparagus always satisfies my taste buds. So it feels just right to showcase it here after all. I've made this clafoutis a while back, when I found purple asparagus. The dish is straightforward and makes a good starter, served with a green leaf salad.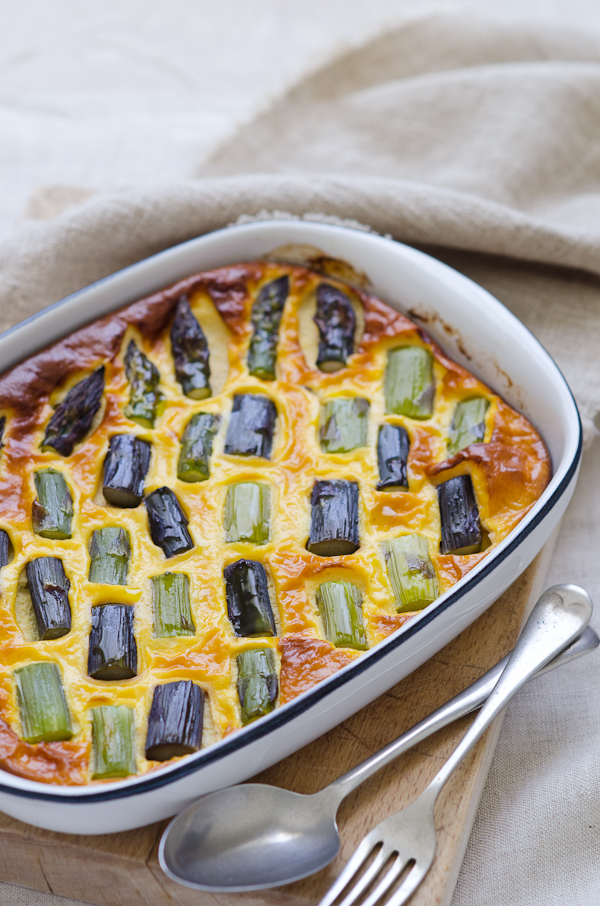 Asparagus Clafoutis (Serves 2 as a starter)
1 bunch asparagus (6 medium size), rinsed and cut into 3cm / 1 inch pieces 90gr crème fraîche (4 tbsp) 2 eggs Salt and pepper 30gr (1/4 cup) grated cheese (gruyère or parmesan)
Preheat oven to 200°C (390°F). Grease well the bottom and sides of a shallow dish (16x23cm). In a bowl whip together cream, eggs, salt and pepper. Add cheese and stir. Pour the batter in the dish and place asparagus. Bake for 25-30 minutes until the top is golden. Serve with a green leaf salad.</em>
_ _ _ _ _ _ _ _ _ _ _ _ _ _ _ _ _ _ _ _ _ _ _ _ _ _ _ _ _ _ _
Il y a quelque chose de spécial et unique avec le produit de saison. Il y de l'anticipation en connaissant qu'il arrivera bientôt; de l'excitation quand finalement il garnit la table et enfin de la satisfaction après la première bouchée. Et c'est bien ce que j'ai ressenti hier soir lorsque j'ai gouté la première feuille d'artichaut trempée dans la vinaigrette. Je prépare rarement une entrée pour nos repas quotidiens, mais cette fois fut une exception simple et délicieuse. Et pendant un instant, je me suis souvenue de l'attrait de l'artichaut quand j'étais enfant. Une attirance principalement due au procédé pour le consommer. Eplucher les feuilles une à une, les tremper dans la sauce, retirer le foin pour enfin atteindre le coeur...
Donc pas de spooky food en vue chez nous la nuit dernière, mais une couleur récurrente, le vert. Après les artichauts en entrée, nous avons continué avec les asperges, en plat principal. Je ne compte plus le nombre de fois où j'en ai mangé depuis le début de la saison. Avec des pâtes, au four sur une pizza, en bruschetta ou dans un clafoutis version salé, les asperges contentent toujours mes papilles. Donc il me semble évident de les faire figurer ici après tout. J'ai fait ce clafoutis il y a quelques temps, lorsque j'avais trouvé des asperges violettes. Le plat est simple à préparer et constitue une bonne entrée à servir avec quelque feuilles de salade verte.
---
Comments
White asparagus, lucky you ! We do not find them here, so enjoy them for me ! Vanille
What a beautiful dish. I'll have to wait until Spring arrives here at the Northern hemisphere to try it. Your photography is inspiring, love all your shades of green (and purple)! Magda
I'm looking forward to the asparagus season here in Germany. Only 7 - 8 month left. ;) Delicious photos! allesistgut
I will try the asparagus recipe - it looks delicious. My favourite way to have asparagus is to steam them until just tender, and then drizzle with our lemon infused olive oil. Yum! Margot
Beautiful! That clafoutis looks so good. Cheers, Rosa Rosa Mayland
Stunning colours and food as always. I love those beautiful artichokes, we had an incredible abundance a couple I'd months earlier in Sydney. I'll be on the hunt for white asparagus soon too :) thank you for reminding me to get out and search for these ingredients whilst they're about! girlinafoodfrenzy
Looks really nice. Thanks for the ideas… kelihasablog
Rosa, thank you. It tasted as good. Allesistgut, yes not really in season in your part of the world…Each season has its own interest ;) Kelihasablog, you're welcome ! Margot, I do like to steam asparagus too and I confirm that your olive oil is a great addition ! Magda, thank you. I like the natural colour combination too. Until then, enjoy automnal produce ! Vanille
Beautiful photos Mabarmalie