Good Morning !
September 26, 2012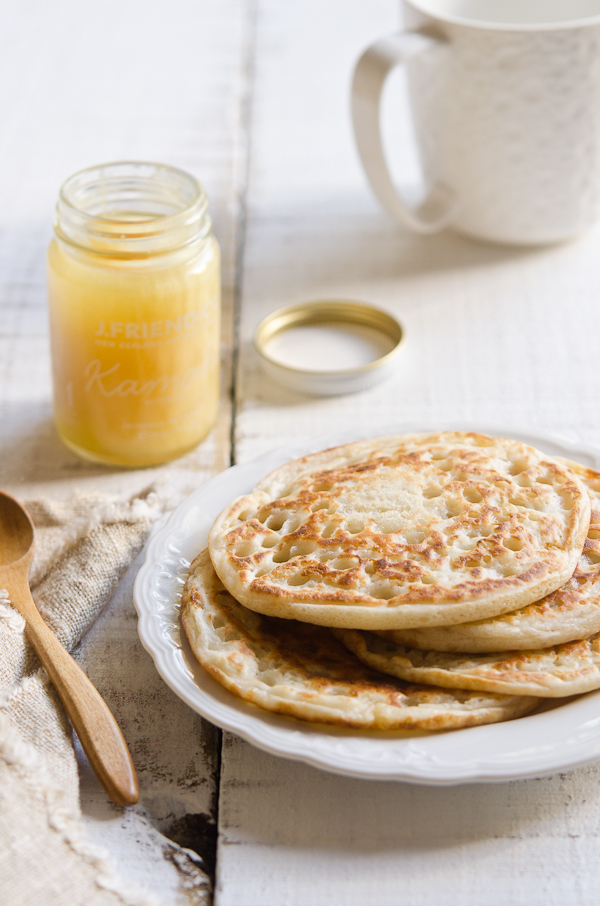 In matter of food, I'm happy because Paprika and I have very similar taste. On a daily basis, it makes life easier, I think. When we eat out, he knows what I will order and I guess his choice. We have also learnt from each other on foods we were not familiar with before we met. And one of the main difference that remains is breakfast. We are both happy to bite in a fresh croissant or pain au chocolat, but that's not usually what await us in the morning. Generally, he goes for a full plate with omelet, dry sausage, bread and slices of tomato and pepper, while I toast rolled oat and sprinkle it on top of freshly cut fruits and mix all with a spoon of honey.
Difference that reminds me Danny Bhoy when he makes fun of countries and their breakfast habits... Hilarious !
So from time to time, I try to bring variety to this first meal of the day. On the week-end, I may bake the day before a loaf of brioche or make a small batch of crêpes in the morning when I feel like it. And for a quick and easy alternative, there are these pancakes. Made from sourdough starter and flavored with coconut milk. They are ready in minutes and make a good start to the day on chilly mornings.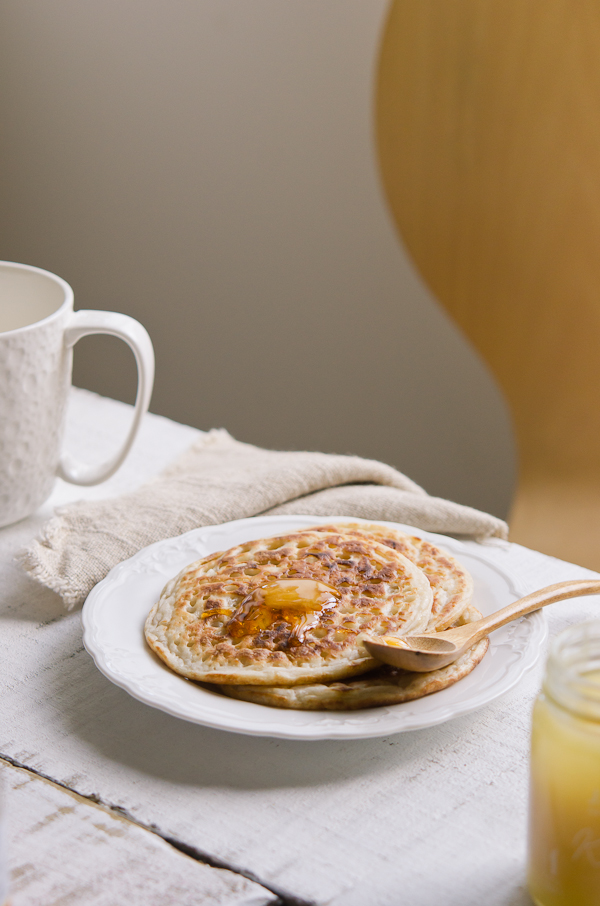 Coconut Milk Sourdough Pancakes/Crumpets (makes 5)
190g sourdough starter 50ml coconut milk 1 tsp sugar 1/2 tsp baking soda Pinch of salt
Heat a slightly greased small skillet over small to medium fire. In a bowl mix all the ingredients together until light and foamy. With a ladle spoon the batter into the skillet and cook the pancake on each side for a couple of minutes. Serve warm.</em>
_ _ _ _ _ _ _ _ _ _ _ _ _ _ _ _ _ _ _ _ _ _ _ _ _ _ _ _ _ _ _
En terme alimentaire, je suis plutôt contente parce que Paprika et moi avons un goût très similaire. Au quotidien, cela rend les choses plus facile. Lorsque que nous mangeons dehors, il sait ce que je vais prendre et je devine son choix. Nous avons également appris l'un de l'autre sur des plats et aliments auxquels nous n'étions pas familiers avant de nous rencontrer. Une des principales différences reste le petit-déjeuner. Nous sommes tout les deux contents de manger un croissant tout chaud ou un pain au chocolat, mais ce n'est pas ce qui généralement constitue notre premier repas de la journée. Habituellement, il aura une assiette pleine avec omelette, saucisse, pain et tranches de tomate et poivron, alors que je vais toaster mes flocons d'avoine et les mélanger avec des fruits fraîchement coupés et du miel.
De temps en temps, j'essaie d'apporter un peu de variété à ce premier repas du jour. Le week-end, il m'arrive de préparer une brioche la veille ou de faire quelques crêpes le matin lorsque cela me dit. Et pour une alternative facile et rapide, il y a ces pancakes. Faites au levain et au léger goût de coco. Elles sont prêtes en quelques minutes et aident à démarrer la journée du bon pied, surtout les matins froids.
Pancakes/Crumpets au Levain et Lait de Coco (Pour 5)
190g levain 50ml lait de coco 1 c.à.c sucre 1/2 c.à.c bicarbonate de sodium Pincée de sel
Chauffer une petite poêle graissée sur feu moyen-doux. Dans une jatte mélanger les ingrédients et jusqu'à ce que la pâte soit légère et mousseuse. Avec une louche verser la pâte dans la poêle et cuire la pancake sur chaque face pendant quelques minutes. Servir chaud.</em>
---
Comments
Ahhh, please enter it for Sweet New Zealand, something a little sweet for breakfast is perfect for me :-) Ciao Alessandra Alessandra Zecchini (@AleZec)
I love that last image, I can imagine myself there enjoying a plate of these beauties. Sylvie Shirazi (@gourmandeinthek)
I love being imaginative with breakfast. It's such a shame on a regular got to get up and get to work day this seems impossible. Those pancakes look lovely. Domestic Executive (@domesticexec)
This looks so delicious. I could immediately eat all of these pancakes. allesistgut
Hi, We've recently launched the site Everyrecipe.co.nz, where users can search through thousands of recipes from the best food sites and blogs of New Zealand. We noticed that you have a lot of delicious recipes on your blog and would like to suggest you have a look at our Top Food Blogs section here. Follow the instructions on our site to add your own food blog to the list. If you have any questions, don't hesitate to contact us on. Hopefully your food blog will be up there in the top! Warm regards, Emilie Everyrecipes.co.nz Emilie Johansson
I am such a lazy bum when it comes to breakfast. But over the weekend I like to create something fancy and this looks lovely :) Kankana
Have a great week-end ladies ! Vanille
Looks wonderful… wish you were here…. LOL :D kelihasablog
A wonderful way of starting the day! Those crumpet-like pancakes look amazing. Cheers, Rosa Rosa Mayland
Hello Viviane, I've just spent the last hour looking through your recipes and photos, and I am blown away. I am so inspired by so many of your recipes. I can't wait to try them all. Please, keep up the amazing work. Heather Heather
| | | | | | | | | |
| --- | --- | --- | --- | --- | --- | --- | --- | --- |
| *[…]   |   |  vosges paris   |   |  ilana kohn   |   |  @downunder  |   | This entry was posted in fashion and tagged ilana kohn, living simpler, wish i was… by […]* |
| **[wish i was… | sang the bird](http://sangthebird.com.au/wish-i-was-11)** |   |   |   |   |   |   |   |
YUM! I made these this morning. Topped with half a banana fried in butter, rum and brown sugar. We were in paradise. mimi
Mimi, I'm truly delighted to read that ! The banana topping surely makes a delicious combination. Vanille
[…]  Several things stood out, like this winter salad that I plan to make tomorrow night and these coconut milk pancakes.  Ultimately, though, what he really wanted was this Buffalo chicken grilled cheese from Closet […] Pinterest Test Kitchen: Buffalo Chicken Grilled Cheese Sandwiches
Wow :) thanks a lot! Now it really must work out :) Karo
Hi Vanille, I'd love to do your pancakes! …how did you make the sourdough starter? I can't find a proper equivalent here in Germany or rather I'm not sure what's this at all… Would be great if you could help me :) cheers, Karo Karo
Hi Karo, For a sourdough starter you need : Flour (white one, or mix of rye and white) Water at room temperature (spring or filtered) Depending on the place you live (warm/cold, humid/dry) the process will take between 3 to 5 days. You should choose: - A dedicated container for your starter and it should not be in metal (preferably a glass one) - A dedicated place in the kitchen for the starter. Preferably without draft and a constant temperature (ideally between 20 to 25°C) and no direct sun. For several days you'll build the starter by mixing equal weight of flour and water. For example: Day 1 30g flour + 30g water Mix well and let it rest for 24h in a glass jar or bowl covered (but not sealed) with the lid of the jar or a small plate. Day 2: Add 30g + 30g water to the mix of day 1 Mix well and let it rest covered in a glass jar or bowl for 24h. Day 3: Ditto day 2. Day 4: You may see the beginning of an activity in your starter with small bubbles. If not, keep on feeding the starter adding an equal amount of water and flour, like on day 2. Day 5: You should see bubbles in the starter, if not, keep on feeding for a couple of extra days. The starter will be ready to be used when it'll be bubbly/foamy and will have a nice sour smell. As soon as your sourdough is ready for use, you can bake/cook with it, but always keep a part of your starter. The starter can be feed daily with an equal weight of flour and water and need to be at least doubled. Let's say there's 80g of starter left, you'll add at least 40g flour + 40g water to it. I recommend you to read this article with detailed explanations. Proportions and flours may be different, but the process remains the same. Wish you happy sourdough making ! Vanille
[…] Terre on a budget (NY Times) 9. What a difference a well-designed parking sign can make (NPR) 10. Crumpet pancakes (At Down […] Friday Roundup | a life well consumed
[…] large with nothing but sunshine coming in. And I love the crispness of all the white in the space. image via Coconut milk, sourdough pancakes. […] Some Inspiration – Sweet Endeavors.com