The Simple Way
August 17, 2012
Sometimes the best things are the simple ones. Simplicity is underrated. We live in a world that feels like a constant and endless auction and where less is more is not the mainstream. Yet there's a kind of beauty in simple things that more often than not attract me. And what I share with you today is definitively easy. Yet tasty.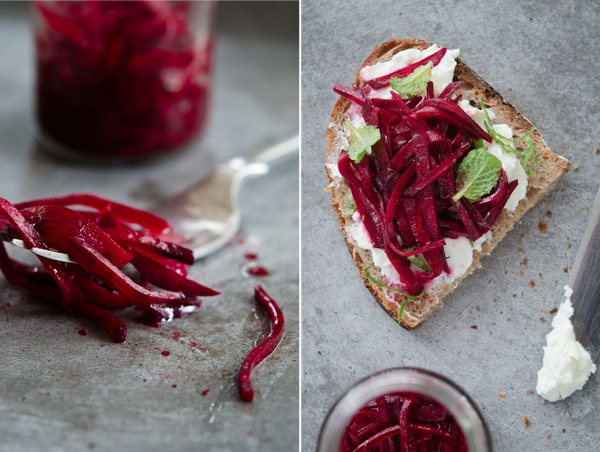 I initially intended to prepare the drained yogurt to eat it in a savoury way. Which I did. Generously spread on sourdough toasts topped with a beetroot salsa and fresh mint. Lunch, the simplest way. It was afterward that I thought of having something sweet. And that's how came the idea of another kind of truffle. Made of plain drained yogurt, nicely coated with pistachio and served with honey. An effortless dessert made with a twist...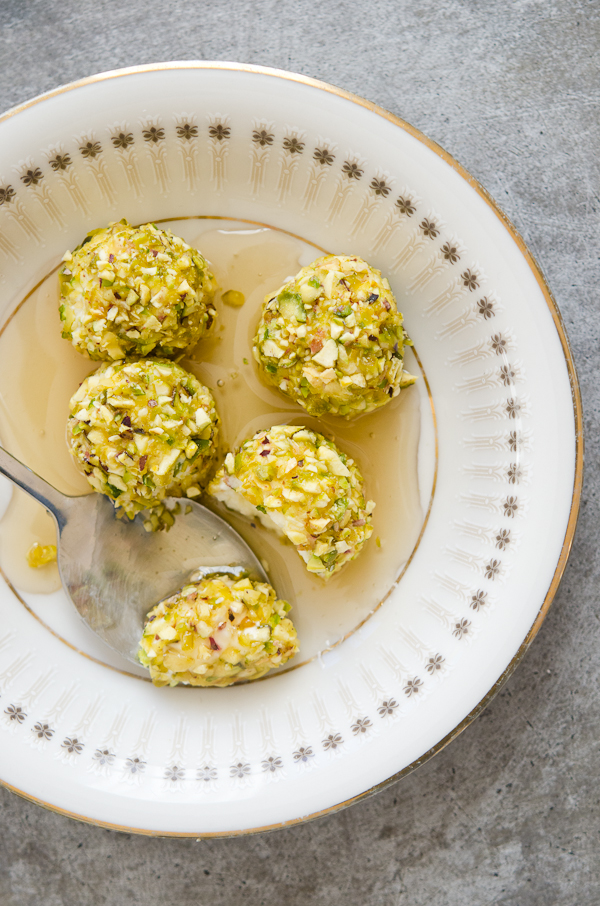 Yogurt and Pistachio Truffle with Honey or Sweet Labneh
250g yogurt drained overnight in a muslin cloth (makes about 105g) 30g pistachio, freshly grind 2 tbsp of honey
With a melon bowler scoop the labneh and roll it gently between your palms to form a little ball. Roll each ball in the ground pistachio and place in a shallow plate. Pour honey on top before serving.
---
Comments
Ce dessert me met l'eau à la bouche ! Françoise
This would be all new tastes for me. Not individually, but combined together. i would love to give it a go…the yogurt balls wrapped in crushed pistachio looks beautiful and deliciously healthy. thyme (sarah)
Labneh is one of my favourite things in this world. I could eat it any which way by the bucketful :-) Lovely, lovely pics as always Viviane xx Emma Galloway
Beautiful! Mairi Herbert (@ToastNZ)
Oh what a fabulous idea to make these yoghurt balls! I will definitely have to try this, it sounds too good! Annes Kitchen
Wow, it looks so tasty and beautiful, I cannot believe it is that easy to make! There must be a catch! Melissa Bakth
Looks really good! Love simplicity! mycookinghut
Thank you ladies ! Vanille
The dessert looks heavenly! anita
Love it! Simple, AND it looks pretty and delicious, too. leaf (the indolent cook)
I love it, this is exactly my kind of recipe ! Reminds me of scandinavian food… Tate it if you can
Simple and adorable!… In Greece we love yogurt and honey, everybody will love these. Thank you! Dimitra
Mouthwatering! Oh, I love labneh and beets. Gorgeous clciks! Cheers, Rosa Rosa Mayland
I love that salad and beet roots are my absolute favorite. The hubby would ask me to add some avocado .. may be tobacco sauce .. yeah he doesn't like beet root at all! As for the truffles .. it's now in my wish list. I love drained yogurt .. it's almost like cream cheese! Kankana
So, so beautiful! Your plating is as divine as the food! Gorgeous! Zen and Genki
Comme d'habitude ! tata tes photos sont superbes et tes plats ont l'air vraiment bon <333 j'adorrrrre <333 ^^ Lauriane
Would be gorgeous with 'langue de chat' biscuits to eat them with! gina schlleman