Small Bites
June 29, 2012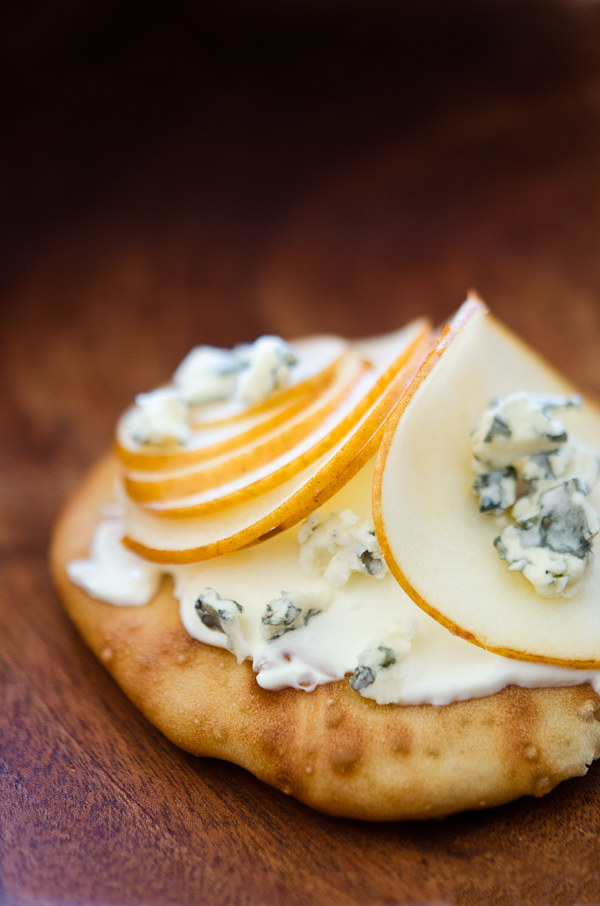 It's been quiet around here... But as you may guess, not so much behind the scene. So time to dust off the workbench and write on the virtual black board what's the menu du jour.
And why not start with these pear and blue cheese sourdough toasts as the fare of the day. Easy yet tasty. Yes, because as long as I like to indulge in rich and comforting dishes in winter, when it comes to lunch, I mostly prefer to go for a light option, a quick fix. Leftover or something ready in minutes. And these small bites fall in this category.
Actually, I was craving for a pizza. This one to be exact. There was no way I could make it in a reasonable time frame with the dough that needs to rest for a couple of hours...
So this sourdough flatbread garnished with pear and blue cheese was prepared as a cheat version.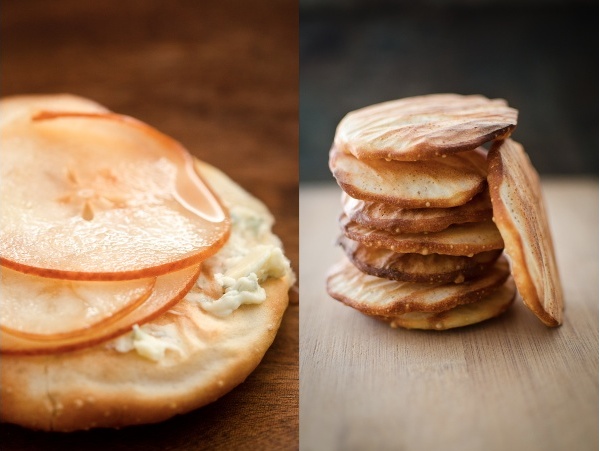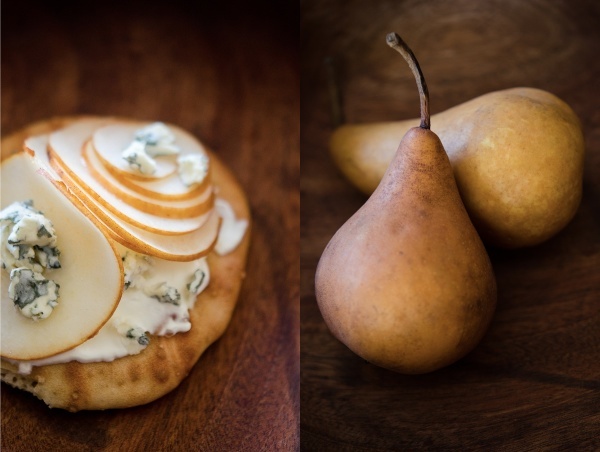 Pear and Blue Cheese on Sourdough Toast (Makes 6-8 toasts)
- 270 gr (1 cup) sourdough starter
1/2 tsp sea salt
1/2 tsp baking soda
Garnish: 1-2 pears finely sliced, sprinkled with lemon juice. 1 tbsp of crème fraîche per toast 60-80 gr blue cheese, crumbled</em>
Preheat oven to 235°C (455°F) with a pizza stone inside. In a large bowl, mix together the starter, salt and baking soda until well combined and the batter is light and foamy. Line a baking tray with baking paper and pour the batter to form regular discs (paying attention not to spread over the size of your baking stone) Carefully transfer the baking paper on the baking stone and bake for 8-10 minutes. Garnish each toast with cream, pear slices and blue cheese on top. Bake at 200°C (400°F) for 5 minutes or until the blue cheese is melted.
_ _ _ _ _ _ _ _ _ _ _ _ _ _ _ _ _ _ _ _ _ _ _ _ _ _ _ _ _ _ _
C'est plutôt calme par ici... Comme vous pouvez le deviner, un peu moins en coulisse. Donc il est temps de dépoussiérer le plan de travail et d'écrire sur l'ardoise virtuelle le menu du jour.
Et pourquoi pas commencer par ces toasts au levain avec de la poire et du bleu pour aujourd'hui. Simples mais gouteux. Oui, parce qu'autant j'aime les plats riches et réconfortants de l'hiver, quand il s'agit du déjeuner je préfère généralement choisir une option plus légère et rapide. Des restes ou quelque chose qui se prépare en quelques minutes. Et ces petits toasts tombent dans cette catégorie.
En réalité, j'avais envie d'une pizza. Celle-ci pour être précise. Il n'y avait pas moyen que je la fasse dans un laps de temps relativement court, avec la pâte qui nécessite de reposer pendant quelques heures...
Donc ces galettes au levain garnies de fines lamelles de poire et de fromage bleu ont été préparées en substitution.
Poire et Fromage Bleu sur Toast au Levain Pour 6-8 toasts
- 270 g levain
1/2 c.à.c sel
1/2 c.à.c bicarbonate de soude
Garniture: 1-2 poires finement tranchées et imbibées de jus de citron 1 c.à.s de crème fraîche par toast 60-80 g fromage blue, émietté</em>
Préchauffer le four à 235°C et positionner une pierre à pizza à l'intérieur. Dans une jatte, mélanger le levain, le sel et le bicarbonate de soude jusqu'à ce que la pâte soit légère et mousseuse. Préparer une plaque de cuisson doublée de papier sulfurisé et y verser la pâte en formant des disques (en prêtant attention à ne pas dépasser la taille de votre pierre à pizza) Transposer délicatement le papier sulfurisé sur la pierre à pizza et cuire pendant 8-10 minutes. Garnir chaque toast avec un peu de crème, quelques lamelles de poire et morceaux de bleu. Remettre au four (200°C) pendant 5 minutes ou jusqu'à ce que le fromage ait fondu.
---
Comments
*This looks delicious. Reminds me of some goat chesse and mango quesadillas that I made. * Jeff
Isn't blue cheese and pears just a divine combination…Phillipa Kayi and Zara
A great idea! Those are tasty bites. A great combination. Cheers, Rosa Rosa May (@RosasYummyYums)
What amazing photos. Elles mettent vraiment en valeur le "menu du jour"! Mountain Dweller
Such stunning photographs. I love the combination of blue cheese and pear. fudgingood
Certainly delectable, light and tasty. If I were offered these anytime of the day I'd be thrilled ;) girlinafoodfrenzy
Pear and gorgonzola (any kind of blue cheese) are a perfect match. I tried it in a pizza once. The photos are beatiful specially those sepia tone pears :) El Oso con Botas
Great shots! I like it a lot! I'm hungry now!! :) blackhelios
Great idea and extremely tasty photos! Ana Goffe
Gorgeous post (as usual), you should call it small & beautiful bites :) Bluejellybeans
Perfect photos! The Relished
I love the very last shot: two pears. For some reason, they look so sensual. Red Star to Lone Star
Nom nom nom! so good! Zen and Genki
There's something magical about the taste of pears and blue cheese together, a classic combination. Sylvie Shirazi (@gourmandeinthek)
I don't even like blue cheese but you've changed my mind! Beautiful photos! I'd love to give these a try. dulcetdevotion
You are so inspiring! Such beautiful photos to go along with such detailed instructions. You make it look so easy. Oster's Mom
These look delicious although off our table for now as we've taken on a wheat free and low carb diet as a first step to resolving some health issues. At least I can have the pear and blue cheese :o) Domestic Executive (@domesticexec)
lovely idea! Marta @ What Should I Eat For Breakfast Today?
These look absolutely gorgeous! And pear & blue cheese….perfection, one of my favourite flavour combinations :) mairi29
Thank you all for your delicious words ! Vanille
Your small bites look absolutely delectable ! Annie
This sounds wonderful! I need to make this for my next dinner party. Dogs, Dishes, and Decor
That is such a great idea and alternative to pizza. Definitely keeping that one up my sleeve. Would be great as cocktail nibbles too. I have missed reading your blog Vanille, been so busy myself. Take care :) Shaz
There's flour in the sourdough starter. It's made of 50% flour and 50% water. And for the pear slices I just use a mandolin ;) Vanille
[…] used this creme to make Pear and Blue Cheese on Sourdough Toast, a recipe by At Down Under: […] LIVLIG-online.com // for life's a DIY project
This looks delicious - unusual sourdough recipe with no flour! And how do you get your pear slices so thin and perfect??! Love :) timeforalittlesomething
These toasts sound delighful. Love pear and blue cheese such a classic combo [email protected]
Beautiful pictures. I love that marbleised looking toast, too. The Table of Zekki
Delicious post. Makes me want to chew on my screen! Sacre Foie!
So… your taking the starter right out of the fridge, adding the other ingredients without adding any addition flour, right? Great idea to use when you need to feed the starter and don't want to make bread or pancakes. Graham Hunter
I keep my starter at room temperature, not in the fridge. If you do keep it in the fridge I would recommend to allow it to come to room temperature before using it. Vanille
[…] http://atdownunder.com/2012/06/29/small-bites/ […] SourdoughToast with Pear and Blue Cheese | 58 Day Dreams