Passion Coco
March 07, 2012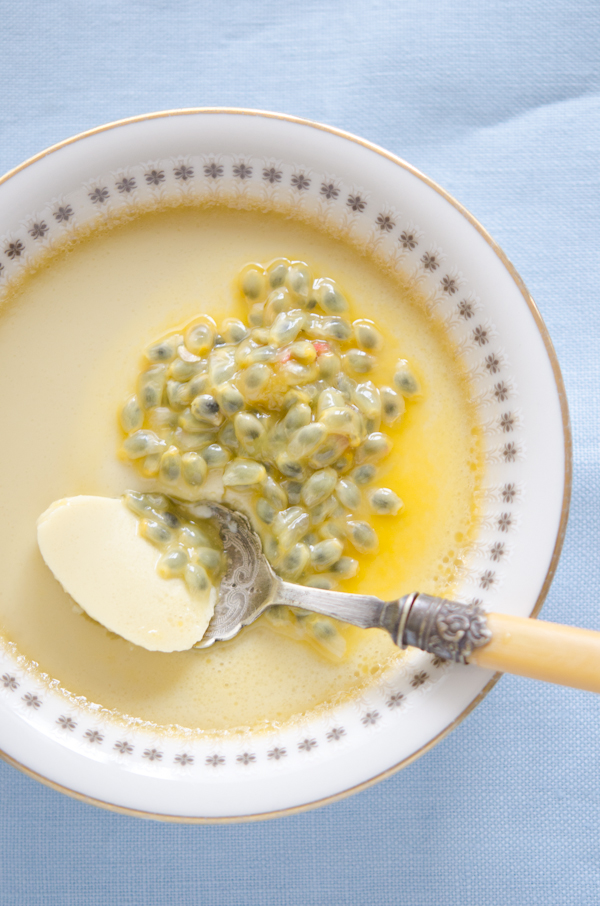 I think my mind and the flavours of this dessert have been conditioned by the conversation I had on Skype with my sister. She started to tell me about the dragon fruit flowers blooming in her garden at night and how ephemeral they are. Indeed, they quickly fade the next morning. Then, she kept on telling me about all what grows well in her backyard and her prolific coconut tree...
Later on, in my kitchen, I was thinking of baking with passionfruit. I like the way this fruit adds a kick to anything. That's what it does to this coconut custard too. It's a combination full of contrast. The passionfruit brings tang and crunch with its seeds, to a sweet and silky coconut custard.
Coconut Crème & Passionfruit (makes 6)
2 eggs 70 g brown sugar 400ml coconut milk 5-6 passionfruits, halved and pulp scooped out
Preheat oven at 160°C. In a sauce pan, pour coconut milk and bring to a boil. Remove from the heat. In a bowl, whip eggs and sugar for a minute. Keep on whipping and add gradually hot milk. Pour the preparation through a sieve to remove the foam, then share it equally into small ramekins/bowls. Place ramekins in a large ovenproof dish and fill the dish with boiling water, until 3/4 full. Bake for about 30-35 minutes or until set. Remove carefully from oven and let cool down completely. Wrap and keep in the fridge for a couple of hours. Remove from the fridge 5 minutes before serving and add passionfruit pulp on top.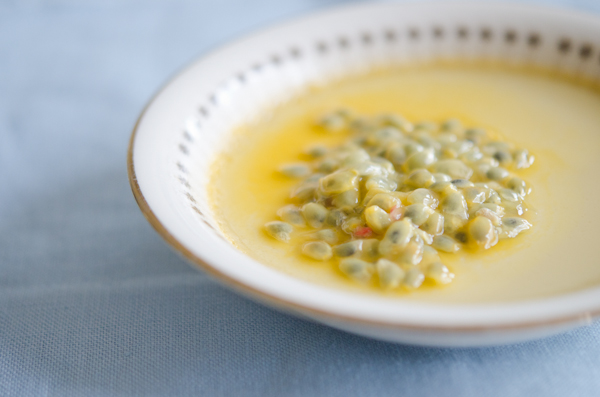 You May Like Too:
-----------------------------------
This is also my contribution to Sweet New Zealand, a monthly blogging event, hosted this month by Emma at My Darling Lemon Thyme
---
Comments
Love coconut cream desserts, this looks super yummy too! Ciao Alessandra Alessandra
this is a sensation, Oh how I long for passionfruits again! ceciliag
I love the flavour of passion fruit too. Your photos are indeed captivating! Ms Em!
Yummy! That looks so so good. Must try. After Taste
*Gorgeous photos! Love the flavor combos between coconut milk + passion fruit :) * Kiran
This looks delicious! Beautiful photos too. Julie @ happygoodtime
I am going to have to give this a try! It looks amazing! I love the flavour of passion fruit. My favourite is passion fruit flavoured tea. tomorrowswisdom
Love your work!!!! Bonnie Cartas
wow, it looks pretty, I wonder how this fruit tastes… Life and travelling Cooking Ola
Looks really good! Miranti
Simply lovely! Soma
oh I miss passionfruit! Delicious photos, as always! Libby
Hi, Great photos and recipe! lovefoodpinny
This is amazingly simple but it definitely looks great! I love passion fruit and coconut! Great job on the photos! Dolce Basilico
Looks divine! Also, love your photography! Assia
A fabulous dessert! So fresh. I am a big fan of flans and passionfruit. Cheers, Rosa Rosa May (@RosasYummyYums)
The contrast of the creamy coconut custard and crunch & bite of passionfruit sounds sensational. I'll give it a whirl at the weekend. Thanks for sharing. thefoodsage
Yes good photo's and very nice blog! Dean
this looks SO delicious, i love the colors and i LOVE passion fruit! I have to try this out next time auntie k
This looks so good! I've got about 500 passionfruit growing on the vine at the side of the house and I've been wondering what to do with them all. Passionfruit curd, passionfruit on a pavlova and then I'm outta ideas. :) Maureen
Gorgeous! Passionfruit and coconut, beautiful combination :) timeforalittlesomething
I'm excited that passionfruits have started making their appearance again. This looks fantastic, I love how simple yet elegant it is :) milliemirepoix
Lovely, simple and very elegant dessert. peasepudding
[…] Down Under – Passion Coco. Gorgeous summery dessert, passionfruit and coconut. […] Friday's Favourite Five | Time for a Little Something
I adore the elegant simplicity of this dessert. Sylvie @ Gourmande in the Kitchen
Simple, elegant, gluten + dairy-free! What a perfect entry for Sweet NZ :-) Thank you xx Emma Galloway
[…] by the natural produce of New Zealand and La Réunion, where she grew up (f.ex. kiwifruit cakes, coconut cream with passion fruit). I'm so jealous that she has access to feijoa, a fruit that I haven't seen or tasted […] Food blogs I love: @ Downunder | nadel&gabel