Keep Cool
January 24, 2012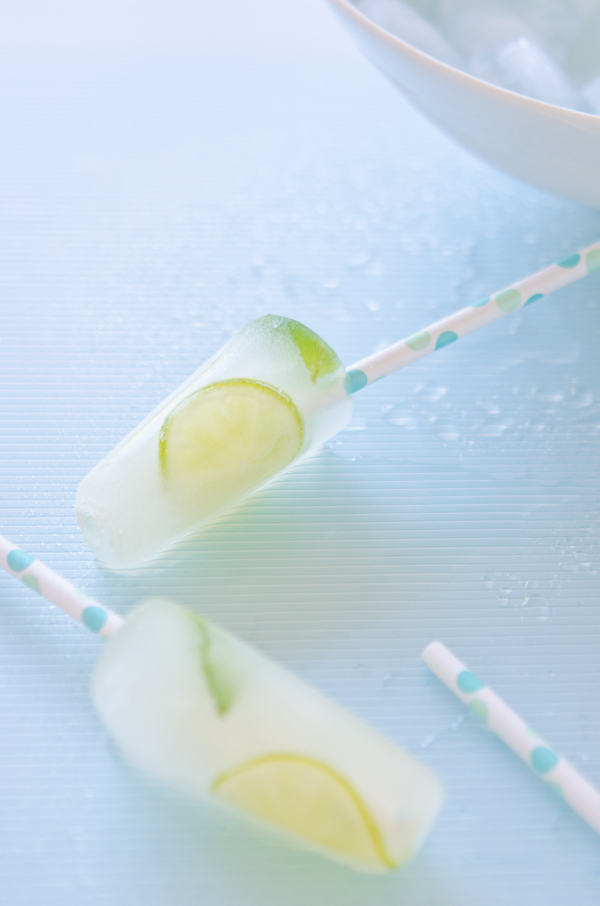 I've recently read a quote that says: If it's important, you'll find a way. If it isn't, you'll find an excuse.
They are the very first words I wrote down in my new notebook, crafted by my sister Sandrine. I wish to fill this notebook with inspiring words, like the one I had when I was a teenage girl. This time it'll be a mix of French and English ones though.
What I like in this particular quote is that it's so true, don't you think so ?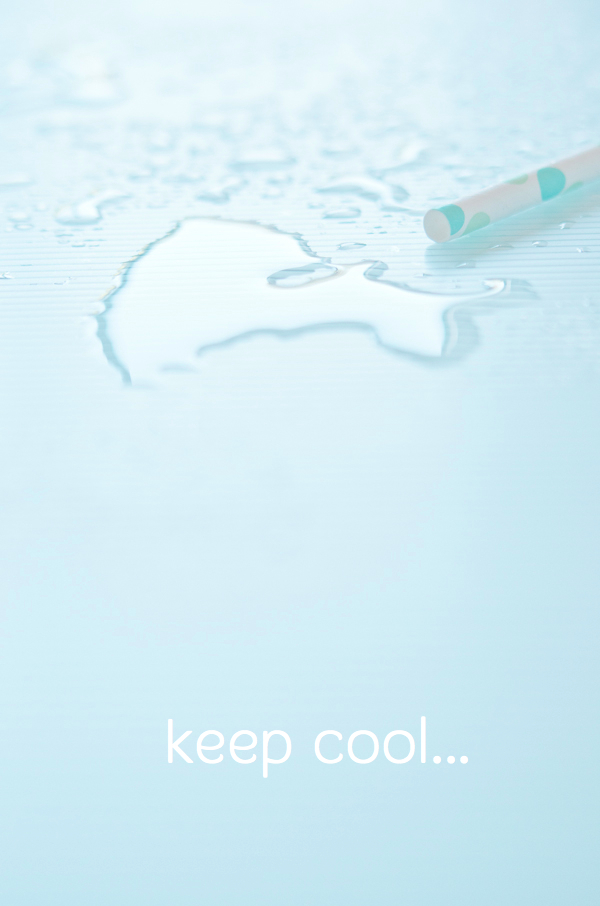 So, rather than telling you the exam preparation that kept me away from the blog, let's share these fancy icy treats.
Mojito popsicles are like a cocktail frozen on a stick. The fresh mint and zesty lime flavours perfectly quench your thirst on a warm day. Like a celebration of summertime and the reminiscence of childhood moments. And this grown-up version can easily be made for everyone by skipping the rum.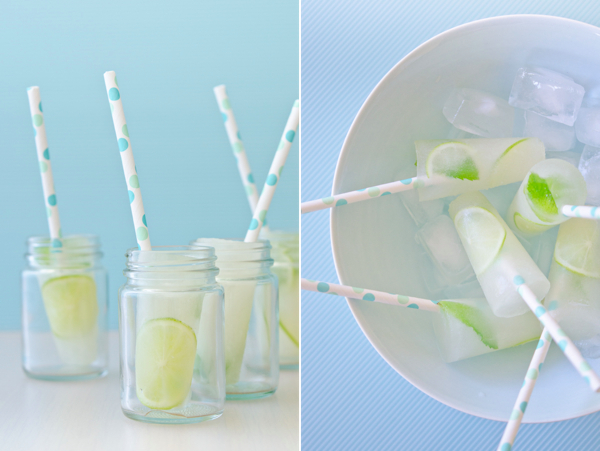 Mojito Popsicle (makes 8)
500ml/ 2cups water (sparkling if you prefer) 1 lime A bunch of mint 3 tbsp brown sugar 1/2 tsp of rum (optional)
Cut 8 thin lime slices. Mix water, brown sugar and lime juice from the remaining lime, until the sugar has totally dissolved. Keep 8 spare mint leaves and steep the others in the sweet water for at least 10 minutes. Place a lime slice and a mint leaf in each popsicle. Taste and adjust sugar to your liking before straining. Then mix in rum and pour into popsicle molds. Freeze for a couple of hours.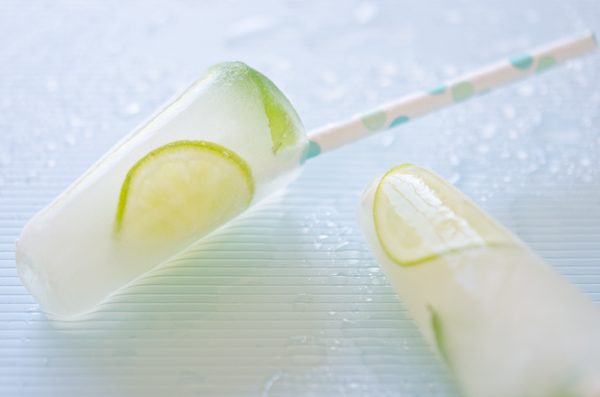 _ _ _ _ _ _ _ _ _ _ _ _ _ _ _ _ _ _ _ _ _ _ _ _ _ _ _ _ _ _ _
J'ai récemment lu cette phrase qui disait: Si c'est important, tu trouveras un moyen. Si ça ne l'est pas, tu trouveras une excuse.
C'est la toute première citation que j'ai noté dans mon nouveau carnet, confectionné par ma soeur Sandrine. Je souhaite remplir ce calepin de mots d'inspiration, comme celui que j'avais lorsque j'étais adolescente. Mais cette fois, ce sera un mélange de citations françaises et anglaises.
Ce que j'aime en particulier dans cette phrase, c'est qu'elle est vraie, ne pensez-vous pas ?
Donc plutôt que de vous raconter les révisions d'examen qui m'ont tenu loin du blog, partageons plutôt de ces petits plaisirs glacés.
Ces sucettes mojito sont comme le cocktail sous forme de glace à l'eau en bâtonnet. Les arômes de la menthe fraîche et l'acidité du citron vert sont parfaitement désaltérantes par jour de forte chaleur. Une célébration de l'été et l'évocation de souvenirs d'enfance. Et cette version pour adultes peut facilement se décliner pour tous en omettant le rhum.
Sucettes Glacées Mojito (pour 8)
500ml eau (eau pétillante si vous le souhaitez) 1 citron vert 1 bouquet de menthe 3 c.à.s de sucre de canne 1/2 c.à.c de rhum (facultatif)
Couper 8 fines tranches de citron vert. Mélanger eau, sucre et le jus du reste de citron vert, jusqu'à ce que le sucre soit complètement dissout. Réserver 8 feuilles de menthe et tremper le reste dans le sirop pendant au moins 10 minutes. Mettre une feuille de menthe et une tranche de citron vert dans chaque moule. Goûter le sirop et ajuster le sucre à votre goût avant de filtrer le sirop, puis ajouter le rhum. Verser dans les moules puis congeler pendant plusieurs heures.
---
Comments
Gorgeous, I'm making Mojito sorbet for a wedding lunch! I'm going to makes these for myself though this weekend :o) peasepudding
Love that quote and could easily apply it to something in my life right now. Beautiful popsicles! Ingenious to use the straws. athena
Divine ice pops! I love that flavor. Cheers, Rosa Rosa May (@RosasYummyYums)
Beautiful! I love the spotty straws sticks and the "Keep cool" puddle image, so refreshing and fun! bron
This sounds as easy as delicious! I wish we had summer over here in Europe… Julia
Thank you ladies ! Vanille
What a great quote and I definitely agree with it :) Love the pretty popsicles, especially the "handles", and mojitos are my favourite summer drink. So much to love in this post Vanille. Hope you're enjoying the summer. shaz
Natasha, thank you. I used popsicle moulds. Hope you'll enjoy them ! Vanille
[…] Down Under – Keep Cool: some beautiful photography of some très chic Mojito […] Friday's Favourite Five | Time for a Little Something
Look fresh and very inviting. Cool styling ad photography too! Lesley
There's great truth in that quote even if we don't always admit it. Beautiful popsicles, love those pretty straws you used. Sylvie @ Gourmande in the Kitchen
Délicieuses ces sucettes mojito ! Anne
These looks so lovely, I will make these when the weather is nice. What kind of moulds did you use? x Natasha
So beautiful, light, and airy looking. These must have been so fun to make. Snippets of Thyme (Sarah)
These look absolutely gorgeous and fantastic…I've been meaning to make something similar using cucumber also! Perter G | Souvlaki For The Soul
Gorgeous photos! I love the colors. I wish I could read through your notebook. It sounds like such a good idea and such a good thing to have around the house. I hope you have fun filling it! Kaitlin
[…] For me the Superbowl is all about food and beer and more food, and then more beer.  However, not everyone likes beer so if you are hosting or want to bring something to a party a pitcher of water with almost anything in it is always good.  You can add any kind of fruit like strawberries, oranges, lemons, apples, blueberries, pomegranates, watermelon or other things like cucumber or mint. Also if you live in Florida like me and it may be hot for your Superbowl Sunday, I found these Mojito Popsicles, check 'em out. […] Superbowl Sunday « FOODOO VOODOO
I love this. Mojito is my favourite cocktail of all time. Limes are pretty expensive at the moment, but 1 for 8 of these is reasonable. I love the spotted sticks. Are they just fancy straws? Bunny Eats Design
Yes, just fancy straws. I didn't like the flashy sticks from the kit ;) Vanille
So lovely!!! Flo Makanai
I have loved mojitos ever since I had my first one in Cuba years ago. I never thought about a frozen one before. I can't wait to try it! They're so pretty! (couldn't imagine them without rum though lol) Maureen
A cocktail frozen on a stick is the best way to describe these! Can't wait to try, they look amazing! Our food lovers would LOVE this. We'd love if you'd check it out and contribute! http://bit.ly/yI0sZU Cheers! Amanda
Oh mon dieu c'est génial j'essaye ça cet été c'est obligé c'est vraiment uen trop bonne idée et surtout c'est juste la méga classe !!! Merci pour cette super idée :) J'adore ton blog y a pleins de bonnes idées et les photos sont à tomber thaïs cecileetthais
Wow those look great! Miami Gourmet Popsicles
I made this yesterday, but because of the brown sugar they look brown. The ones in the picture do not. I'm wondering what the difference is. Stefanie
Stefanie, it might come from the type of brown sugar used. Here, I used Demerara sugar and the lollipops were pale in colour if not "white". Maybe trying with another type of sugar ? Let me know how it turns out. Vanille
[…] Mojito, Sangria, Frozen Strawberry Daquiry, Cucumber Vanilla Martini… all you need is a portion of each of your cocktails, some glasses, a couple of ice cream sticks and a little patience – and voilà! You've chosen a fabulous way of refreshing your summer party guests. […] Keep cool at Italian summer weddings! | Italian Weddings and Events
[…] Classic Mojito Popsicles  Coconut Rum Popsicles […]* The 25 Best Boozy Popsicles | 52 Kitchen Adventures
[…] Courtesy of At Down Under […] 10 Boozy Ice Pops for Grown-Ups
[…] Courtesy of At Down Under […] 10 Boozy Ice Pops for Grown-Ups | Girly Design Blog
[…] Mojito, Sangria, Frozen Strawberry Daquiry, Cucumber Vanilla Martini… all you need is a portion of each of your cocktails, some glasses, a couple of ice cream sticks and a little patience, and voilà! you've chosen a fabulous way of refreshing your summer party guests. […] Italian Weddings and Events Keep cool at Italian summer weddings!
[…] Photo Credits: Left by Clean Plate Pictures,  Middle Left by Olivia Leigh Photographie, Middle Right by Cassandre Snyder, Right by @DownUnder […] Would you… have a cocktail hour? – My Something Blue