On the Rim of the Pacific
November 15, 2010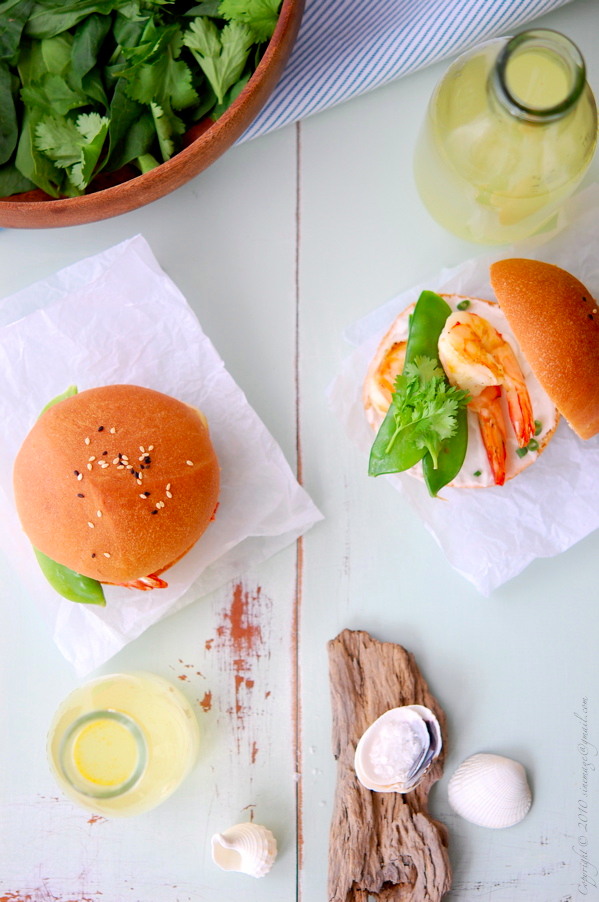 Hope you had a beautiful week-end. Here the thermometer reached 23°C on Sunday ! [73°F]
Paprika and I had only one thought: Spend as much time as possible outdoor. We went for a little walk followed by a late lunch on the deck. Simple pleasure, but good moment to remember.
Since a week, the weather has been so balmy and honestly I can't wait for the Summer ahead !
But first I should tell you about these burgers...
It all started last week, when Mike announced the dinner theme: Pacific Rim.
The expression is usually used to describe a fusion style cuisine influenced by all the different countries around this great ocean. A blend of ingredients, flavours and methods of cooking.
As I tell you this and despite living for almost three years now in New Zealand, I can't say I'm that familiar with this cuisine. So I was wondering for a while what should I cook ?
The day later, an idea finally hit me after finishing my lunch. I had prepared a spicy coconut milk soup and I suddenly realised the ingredients and flavours were just the right ones for a pacific rim meal.
And that's how I started to imagine these burgers with home made coconut flavored buns, garnished with grilled prawns, steamed snow peas, fresh coriander, spring onions on a layer of spicy coconut sauce...[And if you got the chance to cook your prawns on a barbecue that's even better !]
There were a lot of great food that night at the dinner, mainly seafood including Mike's tasty mussel linguine...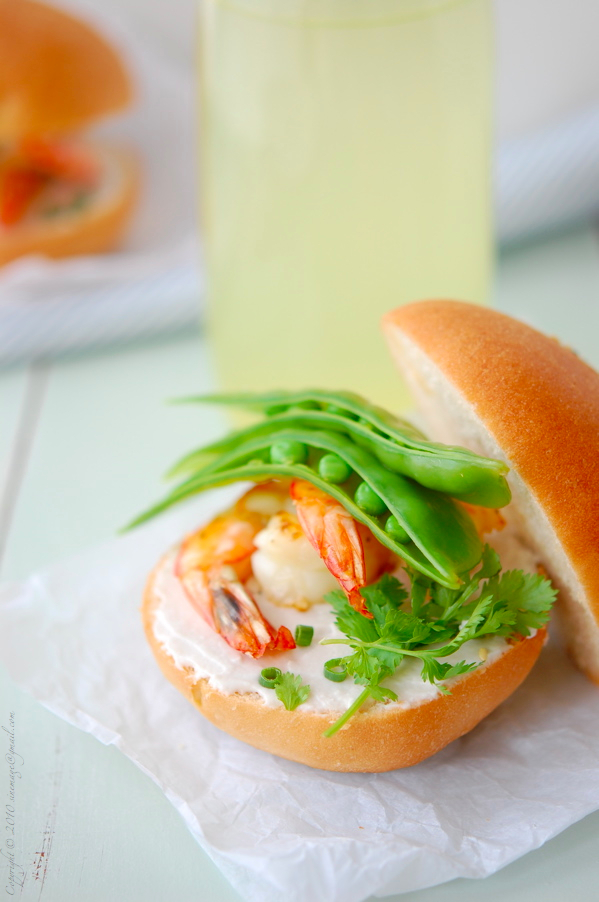 Pacific Rim Burgers (makes 4)
For Buns
250g flour 150ml lukewarm coconut cream or milk 30g fresh yeast (highly recommended vs instant dry yeast) 6 tbsp cooking oil + for brushing top of buns 1/2 tsp salt Pinch of sugar Sesame seeds
For Sauce
250ml coconut cream or milk (Please note, this will make more sauce than required) 1 tbsp cornflour Ginger, peeled and finely sliced Kaffir lime zest finely chopped 1 chilly dry or fresh chopped 2 baby shallots finely chopped Half dozen cumin seeds Salt and pepper
For garnish
12 prawns, unshelled, deveined and coated with oil, salt and pepper Handful snow peas rinsed, tip cut and string pull out Fresh coriander leaves Spring onions finely chopped
Prepare buns by mixing in a large bowl flour, salt and oil with your finger tips until the texture is sandy. Add a pinch of sugar in the lukewarm coconut cream, let it dissolve and then proof the yeast for 10 minutes, covered with a clean tea towel. When done, add gradually the yeast/coconut cream mixture to flour. Mix with your hand in a circular motion to bring in flour and get a consistent dough. Transfer the dough on the table top and knead for 8-10 minutes until the dough is smooth. Cut the dough in 4 equal pieces and shape them like a ball. Let rest the dough for an hour on a slightly dusted flour surface and covered with a clean tea towel.
In the meantime, prepare the sauce. In a saucepan under medium heat, bring to the boil coconut cream, ginger, kaffir lime zest, cumin seeds, chilly and baby shallots. Let it boil for 1-2 minutes and then remove from the heat and let it cool down. Filter the flavored coconut cream through a sieve. Replace sauce pan on a small fire and mix cornflour and a tablespoon of coconut cream. Stir to make a smooth mixture and then add the remaining cream. Stir constantly under medium heat until the sauce thickens. Finally season with salt and pepper. Remove from fire and keep it aside.
Preheat oven to 180°C. Brush slightly the top of each bun with oil and sprinkle sesame seeds. Bake for 15-18 minutes or until nicely golden. Remove from oven, transfer on a cooling rack, slightly sprinkle buns with water and let them cool down covered with a clean tea towel.
When the buns are enough cooled, steam snow peas for 3-5 minutes or until just tender. In the meantime cook prawns in a fry pan over high heat for 1-2 minutes on each side
Slice buns, spread generously coconut sauce, top with prawns, snow peas and garnish with coriander leaves, spring onions and serve right away.
_ _ _ _ _ _ _ _ _ _ _ _ _ _ _ _ _ _ _ _ _ _ _ _ _ _ _ _ _ _ _
J'espère que vous avez passé un bon week-end. Ici le thermomètre a atteint les 23°C dimanche !
Paprika et moi n'avions qu'une envie, passer le plus de temps possible en plein air. Nous sommes allés faire une petite balade suivie par un déjeuner tardif sur la terrasse. Plaisir simple, mais bons moments à garder en mémoire.
Depuis une semaine, le temps a été si doux et honnêtement j'attends avec impatience l'été à venir !
Mais avant tout, il faut que je vous parle de ces hamburgers...
Tout a commencé la semaine dernière lorsque Mike a annoncé le thème du dîner: Pacific Rim.
L'expression est généralement utilisée pour décrire une cuisine fusion influencée par les différents pays bordant ce grand océan. Un mix d'ingrédients, de saveurs et méthodes de cuisson.
Ceci étant dit et malgré le fait que je réside en Nouvelle-Zélande depuis bientôt trois ans, je ne peux pas vraiment dire que je suis très familière avec ce type de cuisine. Donc, je me suis demandé pendant un moment ce que j'allais bien pouvoir concocter.
Le jour suivant une idée m'est venue, enfin, après avoir fini mon déjeuner. J'avais préparé une soupe épicée au lait de coco et j'ai réalisé tout à coup que les ingrédients et arômes correspondaient parfaitement pour un plat type "pacific rim".
Et c'est alors que j'ai imaginé ces hamburgers avec des petits pains maison à la saveur de coco, garnis de crevettes grillées, de pois mange-tout à la vapeur, de coriandre, oignons verts le tout sur une sauce épicée au coco...[Et si vous avez la chance de pouvoir cuire les crevettes au barbecue, c'est encore meilleur !]
Il y avait tout plein de bons plats cette nuit là au dîner, principalement des crustacés et fruits de mer, y compris les appétissantes linguines aux moules de Mike...
Hamburgers Façon Pacific Rim (Pour 4)
Pour les petits pains
250g farine 150ml crème de coco ou lait de coco tiède 30g levure fraîche (Fortement recommendé par rapport à la levure sèche instantanée) 6 c.à.s d'huile + pour badigeoner le dessus des petits pains 1/2 c.à.c de sel Une pincée de sucre Graines de sésame
Pour la Sauce
250ml crème de coco ou lait de coco (NB: Cela fera plus de crème que nécessaire) 1 c.à.s de maïzena Gingembre, épluché et coupé en fines lamelles Zeste de combava, finement coupé 1 piment sec ou frais coupé en morceaux 2 jeunes échallotes finement coupées Une demi-douzaine de graines de cumin Sel et poivre
Pour la garniture
12 crevettes décortiquées et déveinées puis enduites d'huile, sel et poivre Une poignée de pois mange-tout, rinsés, équeutés et fils retirés Quelques feuilles de coriandre fraîche Oignons verts finement coupés
Préparer les petits pains en mélangeant dans une jatte farine, sel et huile du bout des doigts pour obtenir une texture sableuse. Ajouter la pincée de sucre dans la crème de coco tiède, laisser dissoudre puis ajouter la levure et laisser lever pendant 10 minutes recouvert d'un torchon propre. Lorsque la levure a bien moussé, rajouter graduellement la mixture à la farine. Mélanger à la main en un mouvement circulaire pour intégrer la farine peu à peu et obtenir une pâte homogène. Transférer la pâte sur le plan de travail et pétrir pendant 8-10 minutes ou jusqu'à ce que la pâte soit bien lisse. Découper la pâte en quatre parts égales et les former en boule. Laisser reposer pendant une heure sur une surface légèrement farinée et recouvert d'un torchon propre.
Pendant ce temps préparer la sauce. Dans une casserole sous feu moyen faire bouillir la crème de coco, le gingembre, le zeste de combava, les graines de cumin, le piment et les jeunes échalottes. Laisser bouilir pendant 1-2 minutes puis retirer du feu et laisser refroidir. Filtrer la crème de coco infusée. Remettre sur feu doux la casserole avec la maïzena et une cuillère à soupe de crème de coco. Bien mélanger pour obtenir une pâte onctueuse, puis ajouter le reste de la crème de coco. Mélanger constamment sous feu moyen jusqu'à ce que la sauce s'épaississe. Saler, poivrer. Retirer du feu et réserver.
Préchauffer le four à 180°C. Badigeonner légèrement le dessus de chaque petit pain avec un peu d'huile, parsemer de quelques graines de sésame. Cuire au four pendant 15-18 minutes ou jusqu'à ce que les petits pains soient bien dorés. Retirer du four, transférer sur une grille, humecter légèrement les petits pains avec de l'eau et laisser refroidir recouverts d'un torchon propre.
Lorsque les petits pains ont refroidis, cuire à la vapeur les pois mange-tout pendant 3-5 minutes ou jusqu'à ce qu'ils soient tendres. Pendant ce temps, cuire les crevettes dans une poêle sur feu vif 1 à 2 minutes sur chaque face.
Découper vos petits pains, tartiner généreusement de sauce au coco, disposer les crevettes, les pois mange-tout par dessus et garnir de feuilles de coriandre et d'oignons verts. Servir de suite.
---
Comments
Bravo, cette idée d'association de saveurs me tente beaucoup, et tes photos sont toujours aussi belles (je n'ai pas commenté les précédents billets, mais je passe chez toi avec grand plaisir!). Pour nous aussi, à Montpellier, les températures ont été très douces (plus de 20°) pour un mois de novembre, alors que dans le reste de la France c'était tout pourri… j'aurais pu cuire tes crevettes sur mon barbecue! Dominique (De vous à moi…)
What pretty burgers! I really love your idea. Cheers, Rosa Rosa
So beautiful! It sounds absolutely delicious, too! I'm glad that you're soaking up the nice weather :) Kaitlin
Je bookmarke tout de suite ta recette : je dois absolument la tester… ça me fait penser à une sorte de lobster roll remixé fuzion! ;) christelle is flabbergasting
This looks lovely! I'm sure these flavours go very well together. Blandine
brilliant idea!! I love the coconut buns. Going to try those out real soon! [email protected]
*Marvelous thoughts by you and Paprika (spend as much time outdoors for simple pleasures), and a marvelous recipe! Love that the flavors follow through from sauce all the way to bun, overall combinations we really get into. Lovely presentation as well. Cheers, *Heather** heather
Dominique, merci. En effet, 20°C au mois de novembre même pour le Sud c'est pas commun… Rosa, thank you ! Kaitlin, thank you ! The temperature dropped down today but hope it'll be back soon ;) Christelle, tu m'en diras des nouvelles ! Blandine, thank you. Yes, spicy and flavorful ! Asha, thank you ! Happy baking then ! Heather, thank you. Yes, I realised I'm going through a "coconut phase" lately and don't know when it'll stop ;) Vanille
Your photos are beautiful! And hmmm, this is my kind of food:) Janine
Oh wow does that look good! Yum! Tricia @ {every}nothing wonderful
Vanille - these burgers looks gorgeous - perfect fusion food. I definitely have to try making those coconut buns - they sound delicious. We enjoyed a gorgeously beautiful warm weekend too. Sue Couscous & Consciousness
I'm still waiting for that warmer weather to finally hits Melbourne! :) Love love these buns! Their flavours are amazing. anh
[…] petits pains au lait de coco de Vanille, avec comme toujours une illustration […] L'hebdo du pain // Weekly Bread (n° 13, 21 novembre 2010) – VOTRE PAIN
Coconut buns is just a great idea (no prawns for me, but I would find something to stick inside them!! I love the styling in the pics. ciao Alessandra Alessandra
these buns looks perfect! naama peled
Buns made with coconut milk - so good! Cynthia
Wonderful Flavors. I am just looking at those beautiful peas!! So well photographed. Soma
Janine, thank you ! Tricia, thank you ! Coucous & Consciousness, happy to read you'll make the coconut buns. Enjoy the warm weather ! Anh, thank you. If I could I'd send you a bit of warm over the Tasman sea… Naama Peled, thank you ! Cynthia, ah, I was sure you would like these ;) Alessandra, thank you. A vegetarian version would be a good idea ! Soma, thank you ! Vanille
Heavens to Betsy, the shot of the peas on the shrimp on the bread… magical. Stunning as always, you make me happy that I cook. From Me To You