Le Présent aux Couleurs du Passé
October 07, 2010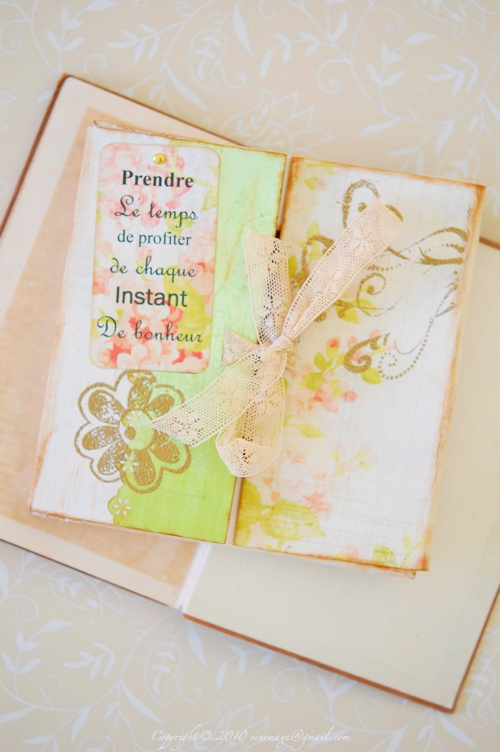 Last week-end I got a surprise in my mail box. A nice one. A little package was sent to me by my sister, Sandrine. A lovely album she made to showcase pictures of my three siblings. It's so long time ago I didn't get a chance to see them all together… So this scrapbook was like an early Christmas gift !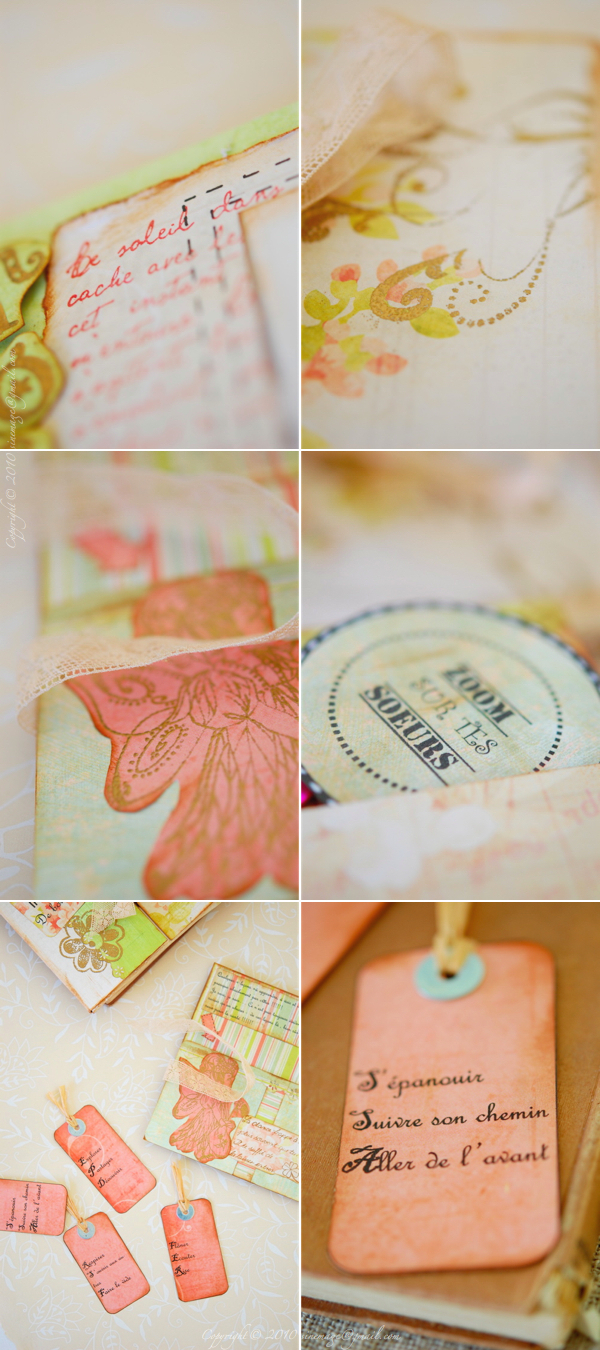 </br> I like the way she presented everything, from pictures, little words, delicate lace, to gilded and pink tones that give a vintage look to the whole album.
So I thought maybe you would enjoy it too…
_ _ _ _ _ _ _ _ _ _ _ _ _ _ _ _ _ _ _ _ _ _ _ _ _ _ _ _ _ _ _
Le week-end dernier j'ai reçu une surprise dans la boîte aux lettres. Une belle surprise. Un petit paquet m'a été envoyé par ma soeur, Sandrine. Un charmant album qu'elle a réalisé pour présenter des photos de mes trois soeurs. Cela fait si longtemps que je n'ai eu l'occasion de les voir toutes ensemble… Alors cet album a été un peu comme un cadeau de Noël en avance !
J'aime la façon dont elle a présenté les choses, des photos, les petits mots, la délicate dentelle, aux teintes doré et rosé qui donnent un aspect vintage à l'ensemble. J'ai donc pensé que vous aimeriez peut-être aussi…
---
Comments
C'est un chouette scrapbook! Belle surprise :) J'aime la perspective dans tes photos. Cheers Olivier Olivier
*How sweet. The best kind of gift. I think it very important to keep connected with family history and family members themselves. Your sister seems equally as talented as you! *Heather** heather
Oh! it's sooo pretty.. so sweet of your sister! [email protected]
So pretty! Ce scrapbook est merveilleux. Bises, Rosa Rosa
Artistic talent runs incredibly strongly in your family Vanille. What a precious gift. shaz
Vanille, maybe one day I will meet you and you will show me all the lovely crafty treasures you have! Ciao Alessandra Alessandra
Thank you everybody !   Olivier, oui cela fait toujours plaisir de recevoir un petit cadeau en dehors d'une occasion précise.   Heather, you are so true about keeping connected. Something I still learn to be better at…   Asha, happy you like it too !   Rosa, je ne manquerai pas de lui faire part de vos commentaires élogieux !   Shaz, I believe everyone is artistic in a way. You just have to find your mean of expression ;)   Alessandra, I don't know when, but I really hope we'll meet one day. But first you have to come back down here ;) Vanille
What an extraordinarily wonderful gift to receive - that is quite beautiful. You obviously are part of a very talented family. Sue Couscous & Consciousness
So the creativity runs in the family! she's very talented… just beautiful work. make my day
How thoughtful! What a wonderful sister you have. Nic
Halo!I am francesca from Italy! This little book is really beautiful, the colours are delicate and delicious, many compliments for your sister! By By, Franci Franci e Vale