A Taste of Yellow: Gorse Flower Granita & Cordial
October 02, 2010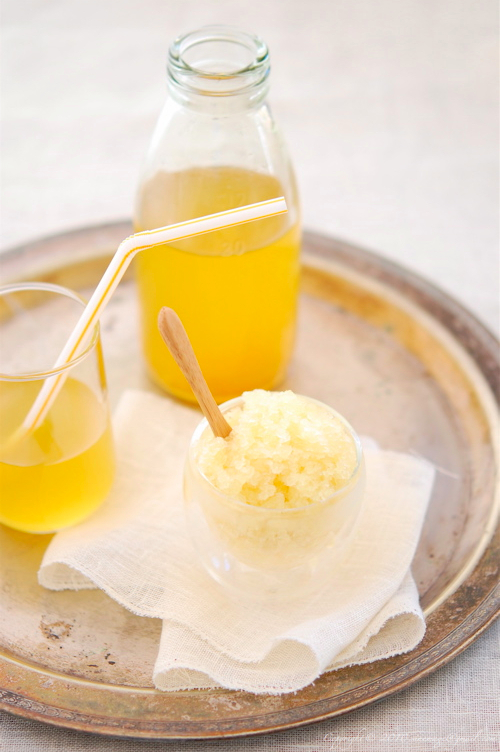 </br>
On Friday morning I grabbed my basket, pulled on my boots and climbed to one of my favourite place to pick gorse flowers.
The weather was beautiful. It was good to breathe fresh air after many days confined at home, with fog and pouring rain outside.
The nice scent reminiscent of coconut and the cheerful colour of gorse flower are characteristic of this walk at Spring time. I successfully filled my basket, being cautious to collect flowers with a pair of gloves to protect my hands from the countless thorns.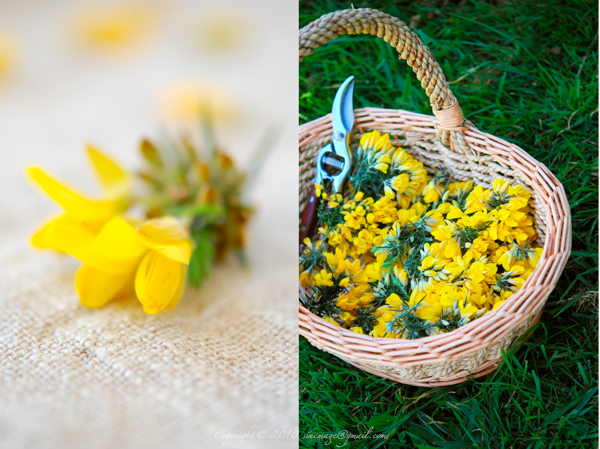 </br> Back home, I carefully sorted flowers, then prepared a syrup to make a cordial. I then halved the quantity and made a batch of granita.
The weather forecast for the whole week-end is very optimistic and I thought a granita would be perfect.
Paprika and I enjoyed it this afternoon, on a sunny deck: A light and refreshing taste of yellow…
</br>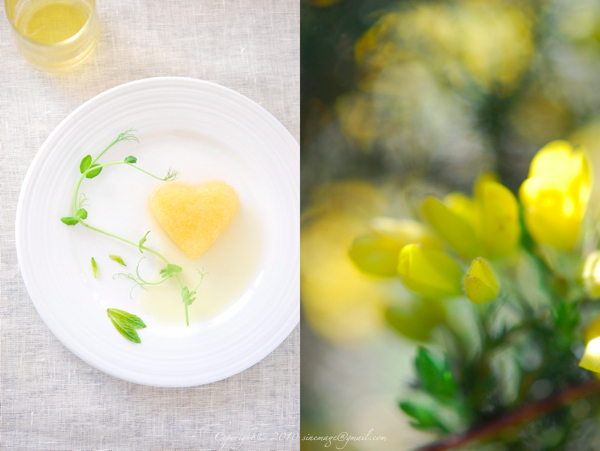 Thank you Barbara for hosting A Taste of Yellow special heart series to raise awareness of cancer on this LiveStrong Day.
</br> Gorse Flower Cordial and Granita (makes 600ml) Adapted from Robin's recipe at Eat Weeds
120g gorse flowers 600ml (21fl oz) cold water 230g (1/2lb) sugar palm Zest 1/2 grapefruit, finely grated Juice 1/2 grapefruit
In a saucepan, make a syrup boiling for 10 minutes water and sugar. Remove from fire, add grapefruit zest and juice and gorse flowers. Stir well and allow to cool for a couple of hours. Strain through a muslin, then transfer in a sterilized bottle. Alternatively, pour the half in a shallow container and freeze for one hour then scrap every 20-30 minutes until there is no more liquid.</em>
---
Comments
Thanks for stopping by my blog and your lovely comment. This granita and cordial looks gorgeous - I would never ever have thought of using gorse flowers - what an inspiration. Sue Couscous & Consciousness
A granita - what a clever idea! Nice work, Vanille :) Nigel @ Curious Kai
Beautiful creation.. the colors are so optimistic!! [email protected]
that looks great….i didn't know that u could use those flowers…and lovely presentation :) Dee D.
C'est du genêt? je ne savais pas qu'on pouvait l'utiliser en alimentation… Superbes photos comme toujours. Bon we Dominique (De vous à moi…)
I did not know you could make cordial from gorse flowers. What a great idea…..and so beautifully presented. Thank you for giving me your heart Vanille. barbara
Dominique, ce sont des fleurs d'ajonc. Le genêt à priori n'a pas d'épines. Merci de ta visite et bon week-end à toi également ! Vanille
Sue, thank you. Your dainty sandwiches + cordial and granita would make the perfect picnic fare ;) Vanille
Barbara, that's my very first time to make a cordial with those flowers and I have to say I really like it. It's been my pleasure… Vanille
A beautiful post! That cordial is wonderful. Cheers, Rosa Rosa
You even make gorse look beautiful - We have way too much of the stuff! I've made cordial too but never granita or iceblocks. What a wonderful idea! Bron
Very beautiful pics! I feel all calm and happy. Great post for LiveSTRONG. Nic
  Rosa, thank you !   Nigel, sure you would like the granita as I know you've already tried the cordial ;)   Asha, thank you !   Dee D, thank you ! Vanille
*I never thought of molding my granita. Wonderful idea, interesting flavors. *Heather** heather
Here in Oregon it's a weed as well. LOVE the idea of using the flowers. I always loved their coconut smell. pirtra
This is just beautiful vanille. simply beautiful. what a wonderful way to support LiveSTRONG. the world needs more people like you! make my day
That look amazing - I did not know that gorse flowers were edible. Cakelaw
This looks great! I didn't know either that you could use these flowers in cooking. I wonder what it tastes like… Blandine
I didn't know you could eat gorse. What a beautiful post for LiveSTRONG. shaz
Gorgeous post! Love your photography! :) Sara
Spring! Sounds like you're enjoying it, and these shots are stunning. Sasa
You make me look at gorse in a totally new way :-) Alessandra
  Thank you all ! You may want to join and share your photo, as Barbara will accept it through out the week.   Heather, as Barbara suggested this year all submissions should include a heart, so here it's mine !   Bron, yes I know, gorse flower is considered as a weed here in NZ ! So I did my good deed ;)   Kari, thank you !   Cakelaw, I discovered they are edible last year. Never too late…   Blandine, the taste is not reminiscent of the smell, but is quiet fresh and subtle.   Shaz, thank you.   Nic, thank you ! Vanille
Sylvie, the taste is not as strong as the smell (of coconut). Like elderflower cordial the taste is very subtle but really refreshing though. It's true that Spring is around the corner for you and you'll be surrounded by these fragrant flowers soon…If you try the cordial let me know what you think. Vanille
The gorse I remember from Reunion Island smelled of coconut. Does this cordial also taste of coconut? You know I like to make cordials & liqueurs so I am always happy for new ideas… sylvie in Rappahannock
Hi - great post - very keen to make this! Once made, do you drink the syrup as is or is it like traditional cordial that requires diluting to drink? If so, what is the ratio of syrup to water? Hate to get it wrong! Katherine