Snacking On...
August 16, 2010
You were waiting for the sweet, weren't you ? Truth to be told, I didn't bake that much. I'm rather simply feasting on fruits and vegetables lately. A lot of them…
The only exception I did last time was to prepare these cookies, kind of digestive biscuits with ground rolled oat and toasted almond meal. Served with a pear smoothie, it makes an excellent afternoon snack.
And this week-end, Paprika and I enjoyed homemade sourdough crumpets for breakfast with honey and almonds. And that's pretty all.
And to be honest I miss it. To bake and to eat baked goods too. So yesterday I made a laminated dough. I knew the end result would be much appreciated by Paprika for breakfast. As for me, it's a way to keep up with things I like to do…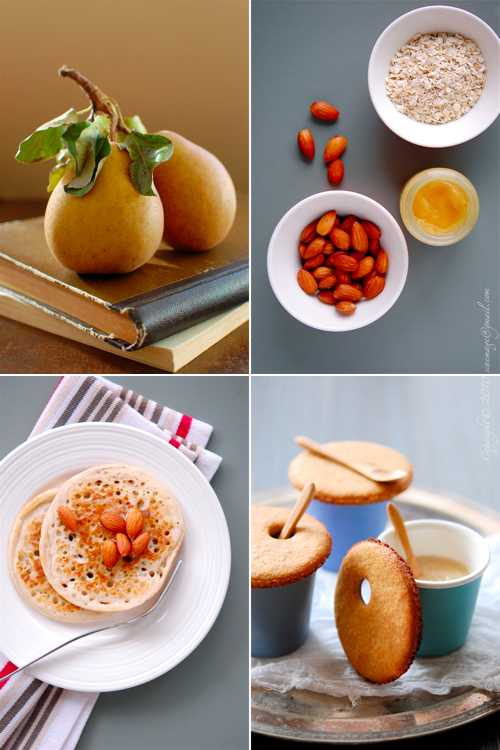 _ _ _ _ _ _ _ _ _ _ _ _ _ _ _ _ _ _ _ _ _ _ _ _ _ _ _ _ _ _ _
Vous attendiez une petite douceur, n'est-ce pas ? A vrai dire, je n'en ai pas beaucoup fait. Je festoie davantage et simplement avec des fruits et légumes dernièrement…
La seule exception que je me suis permise la dernière fois, a été de préparer ces cookies, du style biscuit anglais avec des flocons d'avoines moulus et de la poudre d'amandes grillées. Servis avec un smoothie à la poire, cela fait un excellent quatre-heure.
Et ce week-end, Paprika et moi avons dégusté des crumpets au levain pour le petit-déjeuner avec miel et amandes. Et c'est à peu près tout.
Et pour être honnête cela me manque. Alors hier, j'ai fait une pâte levée feuilletée. Je savais que le résultat final serait apprécié par Paprika au petit-déjeuner. Quant à moi, c'est ma façon de poursuivre les choses que j'aime faire…
---
Comments
The cookie-lid idea is brilliant!! Love it, love it, love it!! sandra
[…] This post was Twitted by MyKugelhopf […] Twitted by MyKugelhopf
I love those "cookie lids"! a great collection of snacks. Cheers, Rosa Rosa
Toujours plein de poésie… J'espère que tu vas mieux? Flo Makanai
*i'm glad that you're not giving up and giving in. keep doing what you love! it's such a talent! cheers, *heather** heather
I love the idea of these cookies with the smoothie and lovely photos of it all. Xiaolu
Gorgeous, gorgeous, gorgeous as always! You are such a talent Vanille, thank you for sharing with us. Bron
Love the lids, so clever! Glad you're still baking, we take pleasure from your creativity too :) shaz
I love how you've served this! Beautiful photos! Maria @ Scandifoodie
What a cute combo! And the cookies are so charming, I wish I could make earrings out of 'em and wear them all day until I get the munchies. ;) Carolyn Jung
gorgeous photos! what a yummy snack! the urban baker
What a great idea to match a fruity, refreshing smoothie with a light crunchy cookie! Your pictures are amazing. Spencer
very very delicious genny
Wonderful pictures - happy I stumbled upon your blog :) Chanel11
Wow. Cookie lids - what a great idea. The sourgough crumpets look like a delicious breakfast too. Cue me getting up early to prepare some! Alice
I would like to write that this is my first time when I am on your blog and I am absolutely hooked and amazed. Your photos are just stunning and I hope I will find a lot of inspiration for my own blog here (hope you don't mind). I havent tried any recipie yet, but it is surely a matter of time -I hope you dont mind:-) Greetings from Poland! Atria Atria
only recently discovered your blog and am loving the style, the wonderful ideas, the amazing photography… those cookie "lids" are just the cutest! will be stopping by regularly, that's for sure! johanna
Oh man this looks delicious! And your photographs are beautiful! Everything here looks great! I recently launched my own blog, I'd love for you to check it out and let me know what you think! :) Thanks! www.prettygoodfood.com Pretty. Good. Food.