Growing Curls
July 15, 2010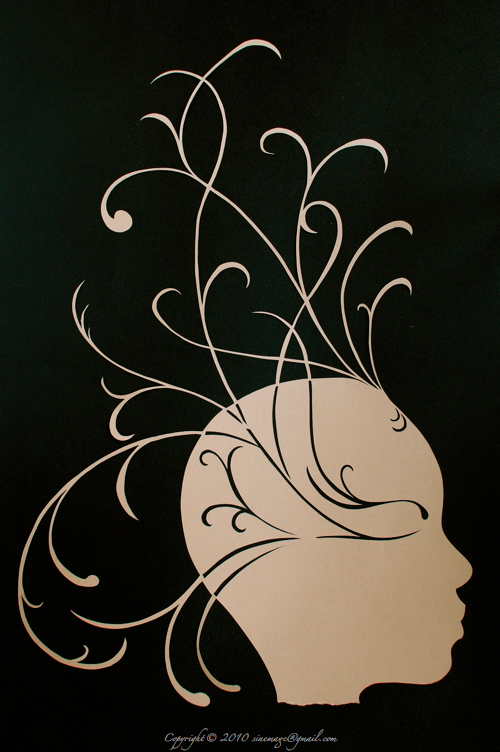 I really did appreciate your response on the previous post. Thank you.
A couple of weeks ago I received the book Paper Tear Fold Rip Crease Cut. A book from a series of interesting ones we ordered and I would like to share with you.
I was really excited when it was delivered and it did not disappoint me: this book is such an inspiration. With Richard Sweeney foreword, the book shows the work of many great artists including some I told you about before -here and here. There's a wide range of style, going from geometric and computerised design to finely intricate one. And I also like the chapters dedicated to fashion and furniture.
In short, I really recommend this book if you like paper and or creativity.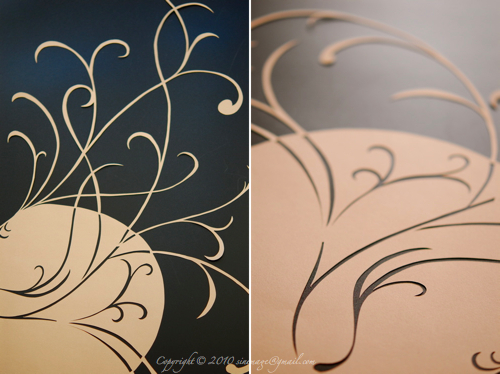 On a more humble side, my paper cut, based on my own profile and imaginary curls growing from within my head…
_ _ _ _ _ _ _ _ _ _ _ _ _ _ _ _ _ _ _ _ _ _ _ _ _ _ _ _ _ _ _
J'ai vraiment apprécié votre retour sur le billet précédent. Merci.
Il y a quelques semaines, j'ai reçu le livre Paper Tear Fold Rip Crease Cut. Un livre de la série d'ouvrages très intéressants que nous avons commandé et que j'aimerais partager avec vous.
J'étais toute excitée à sa livraison et je n'ai pas été déçue: ce livre est une mine d'inspiration. Avec un avant-propos de Richard Sweeney, le livre répertorie le travail de nombreux artistes talentueux et parmi eux certains dont je vous avais touché mot -ici et là. Il y a une large variété de style, allant du design géométrique et informatisé à celui finement ciselé. J'aime également les chapitres dédiés à la mode et au mobilier. Bref, je recommande vivement ce livre si vous aimez le papier et/ou la créativité.
Beaucoup plus modeste, mon petit découpage, basé sur mon propre profil et des boucles imaginaires poussant depuis l'intérieur de ma tête…
---
Comments
Very cool. My mom used to do paper-cutting in celtic designs. I did a few of my own but it took a lot of patience and steady hands! Xiaolu (6 Bittersweets)
So pretty and very Art Déco! Cheers, Rosa Rosa
Lovely, like a bird of paradise! Will check out the book, you have such a steady hand. shaz
Rosa, Xiaolu, Shaz, thank you !! Vanille
Franchement j'admire ton travail!!! Trop beau!!! Dad