Le Pain Quotidien
October 16, 2009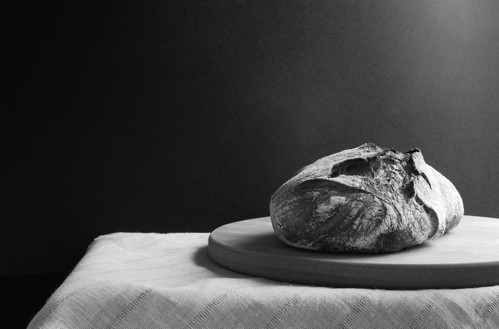 Today, it's World Bread Day.
Mine is a sourdough bread. After baking the no-knead bread and also trying a couple of recipes to satisfy my daily fix, I've finally jumped in the sourdough adventure. I'm still surprised how two simple ingredients -flour and water- can make such a nice crust and soft crumb.
I want to thank Florence for sharing a simple way of making bread. Her blog is full of useful tips and her formula is a success all the time.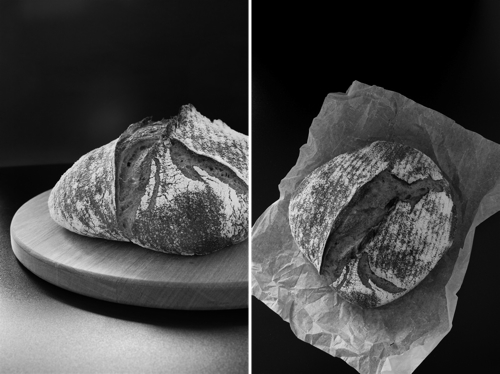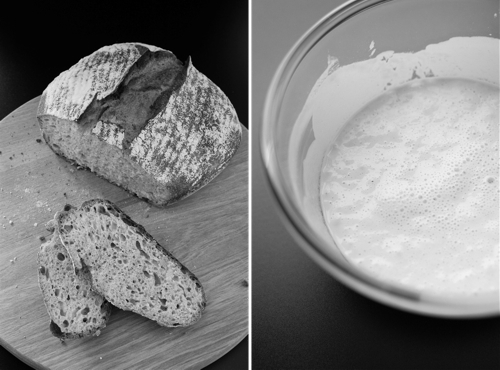 So for my daily bread, I follow Florence's formula. It's very simple, she calls it 1,2,3 (English version here)
1, is for the quantity of sourdough starter you want to use, it has to be measured by weight and will be the base of the formula. 2, is for the weight of water you then add, based on the weight of your starter. Two times more water than starter. 3, is for the weight of flour. Three time more flour than the weight of the starter.
As an example, you will mix:
150g starter (liquid)
300g water (2X150g)
450g flour (3X150g)
That's the basic formula. I've tried different combination of flours -white, rye, linseed, buckwheat, spelt, wholemeal- and customized with nuts, seeds or dry figs and it worked all the time. You may also use milk instead of water. In any case, do not forget salt (1.5 to 2% of the flour weight).
Afterward, I make it my way, which is probably not the proper one, but works for me. I usually knead the dough for 10 minutes by hand, adding salt at the two last minutes and then let it rest for 8 hours or overnight in a large bowl coated with oil and covered. Then, I shape it and let it rest for 3 hours in a clean tea towel dusted with flour. And finally bake it at 240°C in a cast iron pan with lid on for 30 minutes and 15 minutes, lid off.
For more bread recipes go and have a look there.
_ _ _ _ _ _ _ _ _ _ _ _ _ _ _ _ _ _ _ _ _ _ _ _ _ _ _ _ _ _ _
Aujourd'hui, c'est la journée mondiale du pain.
Le mien est un pain au levain Après avoir testé le pain sans pétrissage et aussi quelques autres recettes pour satisfaire ma dose quotidienne, j'ai finalement plongé dans l'aventure du levain. Je suis toujours surprise de voir comment deux ingrédients aussi simples -farine et eau- peuvent faire une si bonne croûte et une mie tendre. Je remercie Florence pour partager cette façon simple de faire le pain. Son blog est plein de petites astuces et informations et la formule marche tout le temps ! Je vous renvois donc, si vous ne la connaissez pas déjà, sur la formule 1,2,3 établie par Florence.
Et pour d'autres recettes de pain, c'est par là.
---
Comments
A wonderful loaf! I love bread so much! Cheers, Rosa Rosa
*I LOVE this idea! Thanks so much. My boyfriend and I have been experimenting with different sourdough recipes. They've all turned out but nothing has knocked our socks off yet. We're definitely going to give this a whirl. Cheers, *Heather** heather
Rosa, I love bread too and it keeps an important part in my diet. Heather, yes I like how simple is it to remember. Let me know how it turns out for you. Vanille
Exquisite bread photo. Just incredible. El
il est magnifique ce pain, les photos donnent envie aussi!! Line
I love sourdough bread and your looks so yummie, whith this big wholes. Love it! Thank you for your participation in World Bread Day 2009. Yes you baked! :-) zorra
Superbe billet, et encore ravie d'avoir pu participer à l'aventure :-) flomakanai
Beautiful bread - beautiful photos! Petra
I never baked with sourdough, but this 123 formula seems very easy that i'll give it a try soon. The B&W photos are wonderful :) Regards from Lisbon - Portugal Moira Moira
El, thank you. Line, merci ! Je confirme le pain était aussi bon que beau ! Zorra, thank you for hosting this World Bread Day it was a pleasure to participate ! Flo, merci ! ;) Petra, thank you ! Moira, thank you. Hope you will share about how it comes out for you ! :) Vanille
Your pics are very inspiring and beautiful. Liska
HI Vanille, Gorgeous pics as usual. Just wanted to let oyu know I'm handing an award to you, just swing by the blog to pick it up. Cheers Shaz shaz
Thank's Vanille!!!! Have a nice vacations!!!! Will wait for your starter recipe after u come back :-)))) Marianna
Hi, How to get "sourdough starter"? Cam you please let me know the recipe? The bread looks great!!!! I love baking my own breads! Marianna Marianna
Marianna, thank you. I'm on vacation right now, but I'll get back to you as soon as I can for info regarding the starter. Vanille
[…] is your favourite recipe that you've posted? I love bread and I have shared different sourdough bread recipes on the blog. The macatia is special to me because it's from my childhood. And Flo […] Food blogs I love: @ Downunder | nadel&gabel
I used to make no knead overnight bread. Then I started with sourdough. There were such ridiculous schedules! I tried changing them to suit me but it just didn't work. So I figured if rising overnight develops gluten in normal bread, why not sourdough? So I started making mine at night just like the no knead, replacing the yeast with some starter and I got a decent loaf, then I started the bread a few hours before going to bed and gave it a few turns every half hour in the bowl using a wooden spoon until I went to bed and left it all night, shaped it and cooked it and I get great bread. It's easy, it fits my schedule,what more could I want? This recipe!!! I was doing it by eye and feel. Now I have a reliable way. Thank you! silvia