A Taste of Yellow
September 05, 2009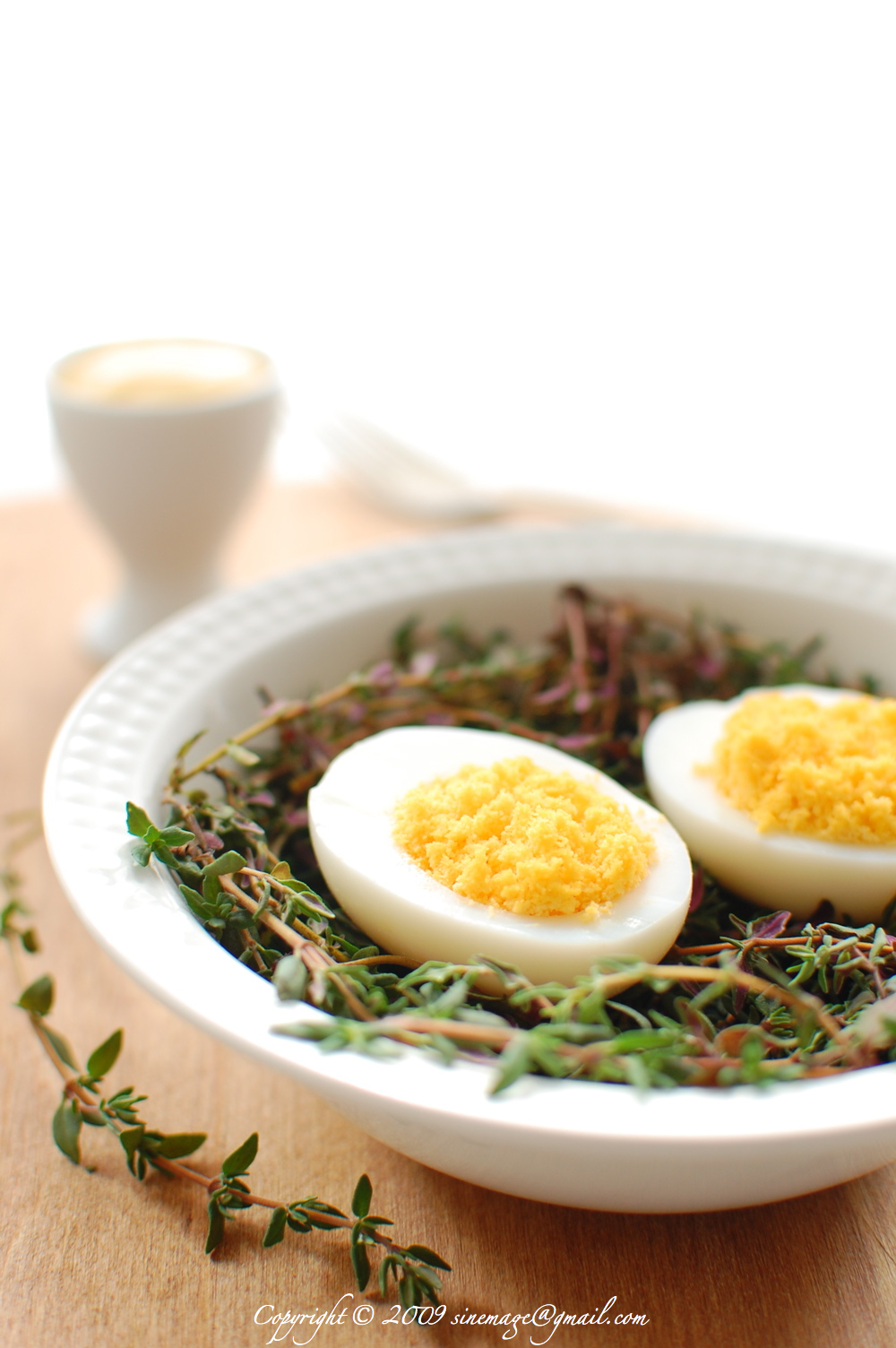 I should do it before I miss it.
That's exactly what I told to myself when I realised it's already September ! Can you believe it ? The end of the year is so close now… 2009 is a speedy !
I didn't want to miss the deadline for LiveStrong Day with a Taste of Yellow. A blog event hosted by Barbara from Winos and Foodies to raise awareness of cancer issues worldwide.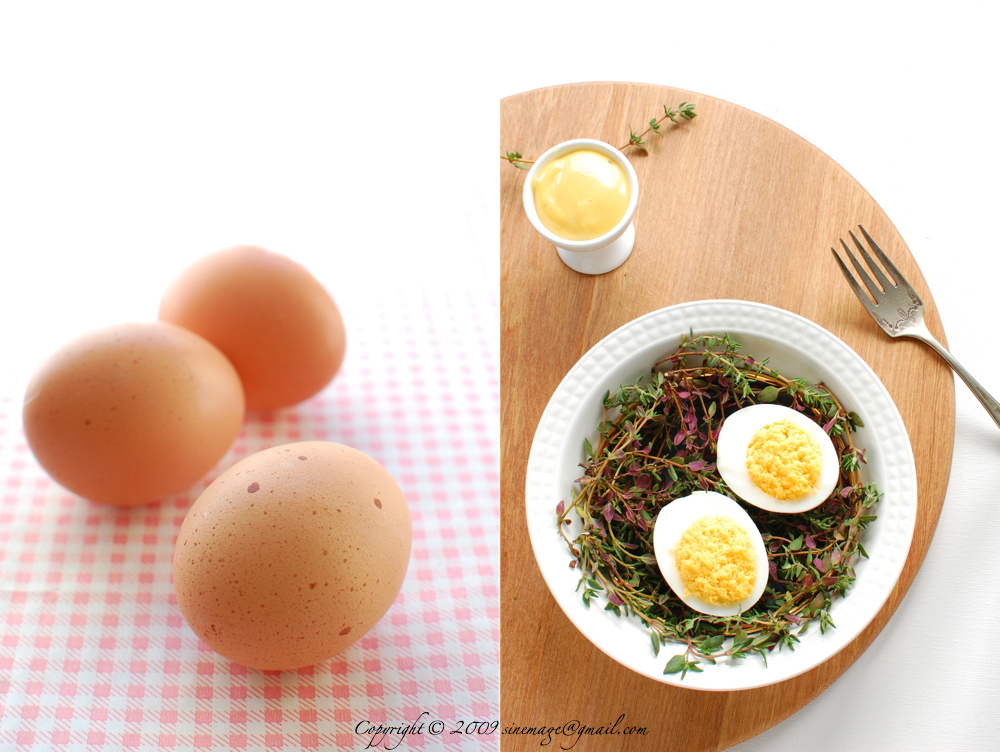 It's ages I did not eat des oeufs mimosa [deviled eggs]. I remember my mother was used to make some for starter when we had guests coming. Served with a tomato salad, it's delicious ! While I will have to wait for Summer for good tomatoes, I still can enjoy these oeufs mimosa… And for an authentic taste, I prepared the mayonnaise.
You can also join in and submit until September 13 a recipe including a yellow food for this Taste of Yellow 2009 !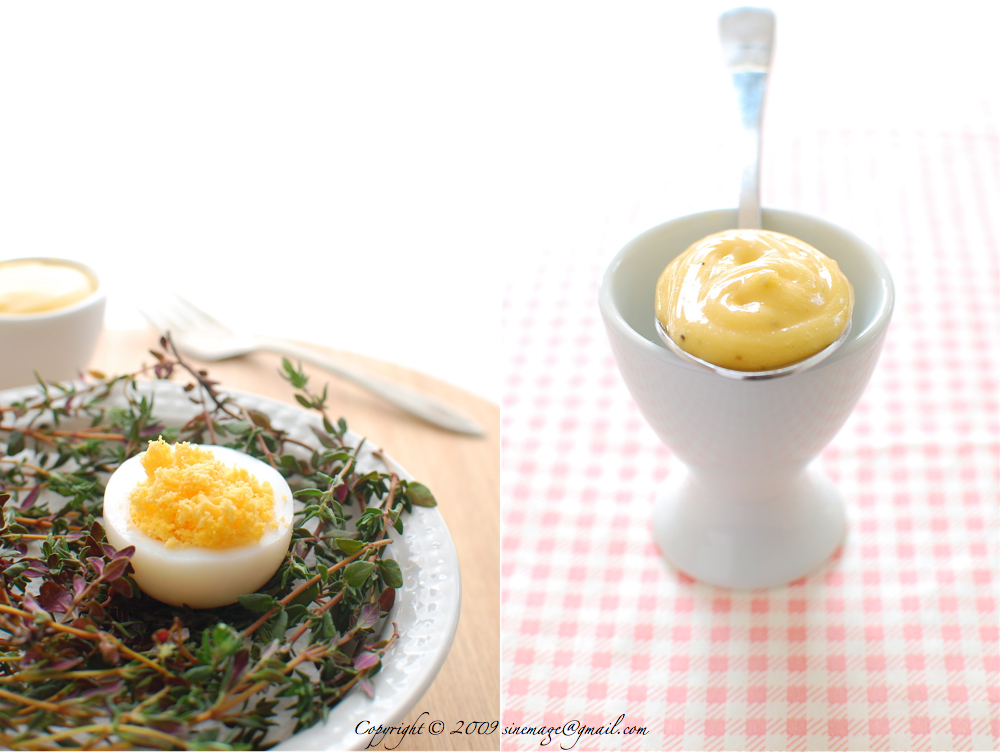 To prepare Oeufs Mimosa: Cook eggs for 10 minutes in a boiling water with a bit of vinegar // Let them cool under cold water, peel them and half them // Spoon out the hard egg yolk and pass it through a fine sieve // Keep it aside and prepare the mayonnaise // Mix together an egg yolk, salt, a tsp lemon juice and half tsp mustard // Keep on whipping and then add gradually olive oil [10cl] until the mayonnaise is thick // Scoop mayonnaise in the egg white and spread on the top sieved egg yolk.
_ _ _ _ _ _ _ _ _ _ _ _ _ _ _ _ _ _ _ _ _ _ _ _ _ _ _ _ _ _ _
Je devrais les faire avant que je ne râte la date.
C'est exactement ce que je me suis dit quand j'ai réalisé que nous sommes déjà en septembre ! Incroyable ! La fin de l'année est si proche à présent… 2009 aura été rapide !
Je ne voulais pas manquer le délai pour A Taste of Yellow pour Live Strong Day . Un événement bloguesque organisé par Barbara de Winos and Foodies pour sensibiliser le public aux problèmes du cancer.
Cela fait une éternité que je n'ai pas mangé des oeufs mimosa. Je me souviens que ma mère les faisait en entrée quand on recevait. Servis avec une salade de tomates, c'est délicieux ! Il faudra encore attendre l'été pour de bonnes tomates, mais cela n'empêche pas de déguster les oeufs mimosa. Pour un goût plus authentique j'ai aussi préparé la mayonnaise.
Vous pouvez vous aussi participer au Taste of Yellow 2009 et proposer jusqu'au 13 septembre une recette qui inclut un aliment jaune !
Pour préparer les oeufs mimosa: Cuire les oeufs pendant 10 minutes dans de l'eau bouillante avec un peu de vinaigre // Laisser refroidir les oeufs sous de l'eau froide, écaler les oeufs et les couper en deux // Retirer le jaune d'oeuf et le passer au chinois // Laisser de côté et préparer la mayonnaise // Mélanger ensemble un jaune d'oeuf, sel, une cuillère à café de jus de citron, et une demie-cuillère à café de moutarde // Continuer à battre et ajouter graduellement l'huile d'olive [10cl] jusqu'à ce que la mayonnaise s'épaississe // Remplir de mayonnaise les blancs d'oeufs durs et les saupoudrer de jaune d'oeuf.
---
Comments
Beautiful! Your pictures are aesome! Cheers, Rosa Rosa
The mimosa really brings back memories… thank you for the A taste of yellow tip! Alessandra
A beautiful dish and gorgeous photos. Thank you for participating Vanille. barbara
I can't keep repeating myself so I'll just leave a smile :) Cynthia