Sweet As Gold
August 05, 2009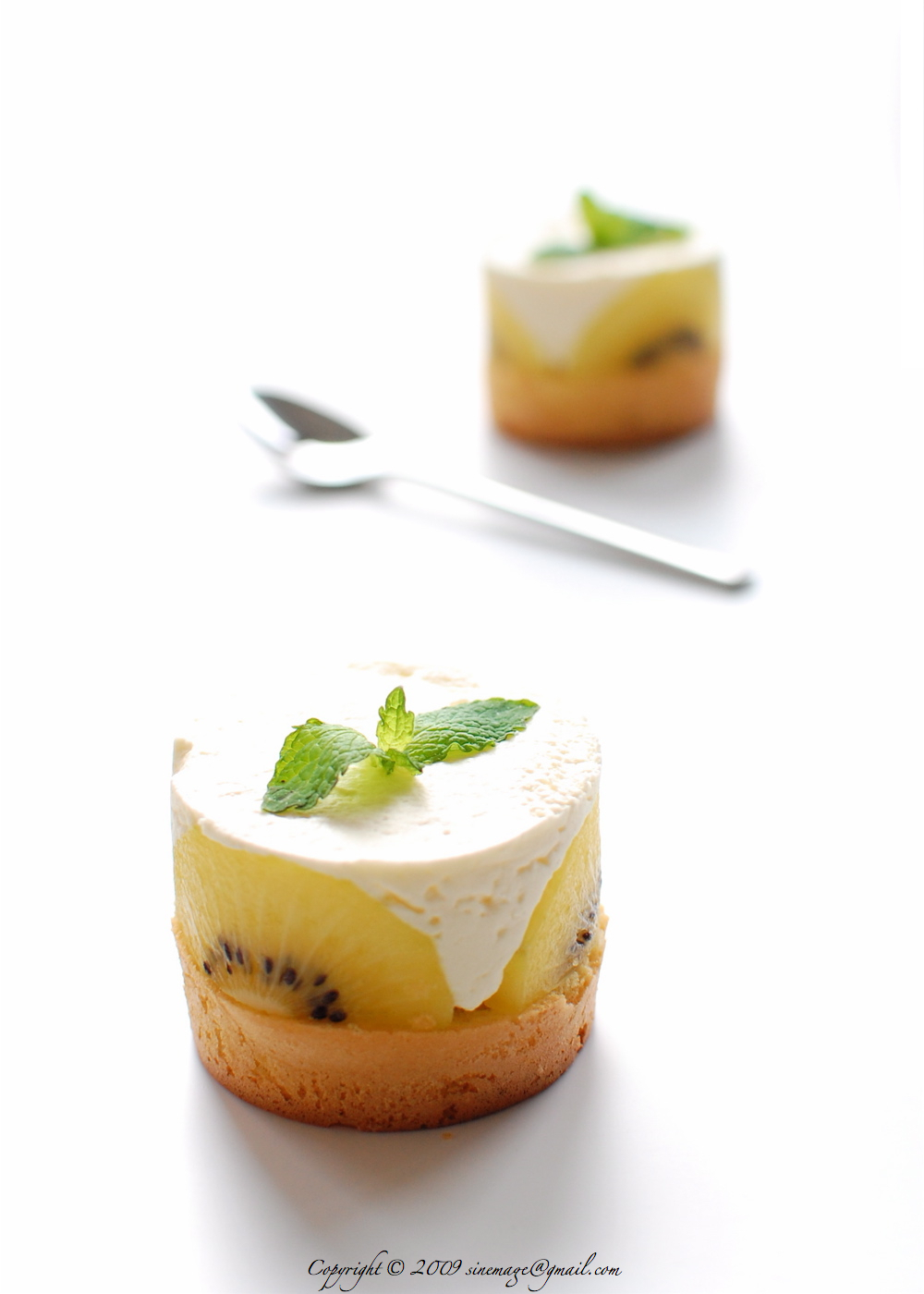 Sweet moment, enjoying the sun comfortably sit down in an armchair, strategically placed next to the window and writing this post… Sweet moment, chatting until late in the night with a friend not seen for a very long time… Sweet moment, hearing a good friend is expecting a little boy for the beginning of next year !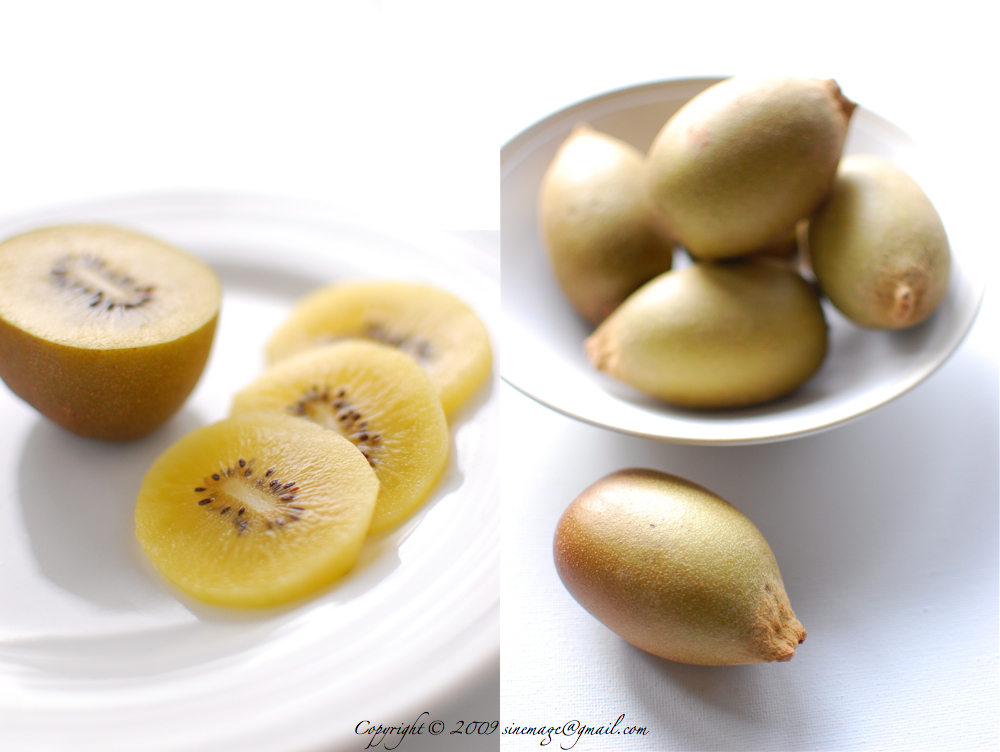 As sweet as these moments, this fresh looking dessert is inspired from the French cake called Fraisier -strawberry cream cake.
An exotic version with génoise, syrup, crème chantilly and kiwifruits -in season down here- and that can be made with green kiwis althought kiwi gold are sweeter.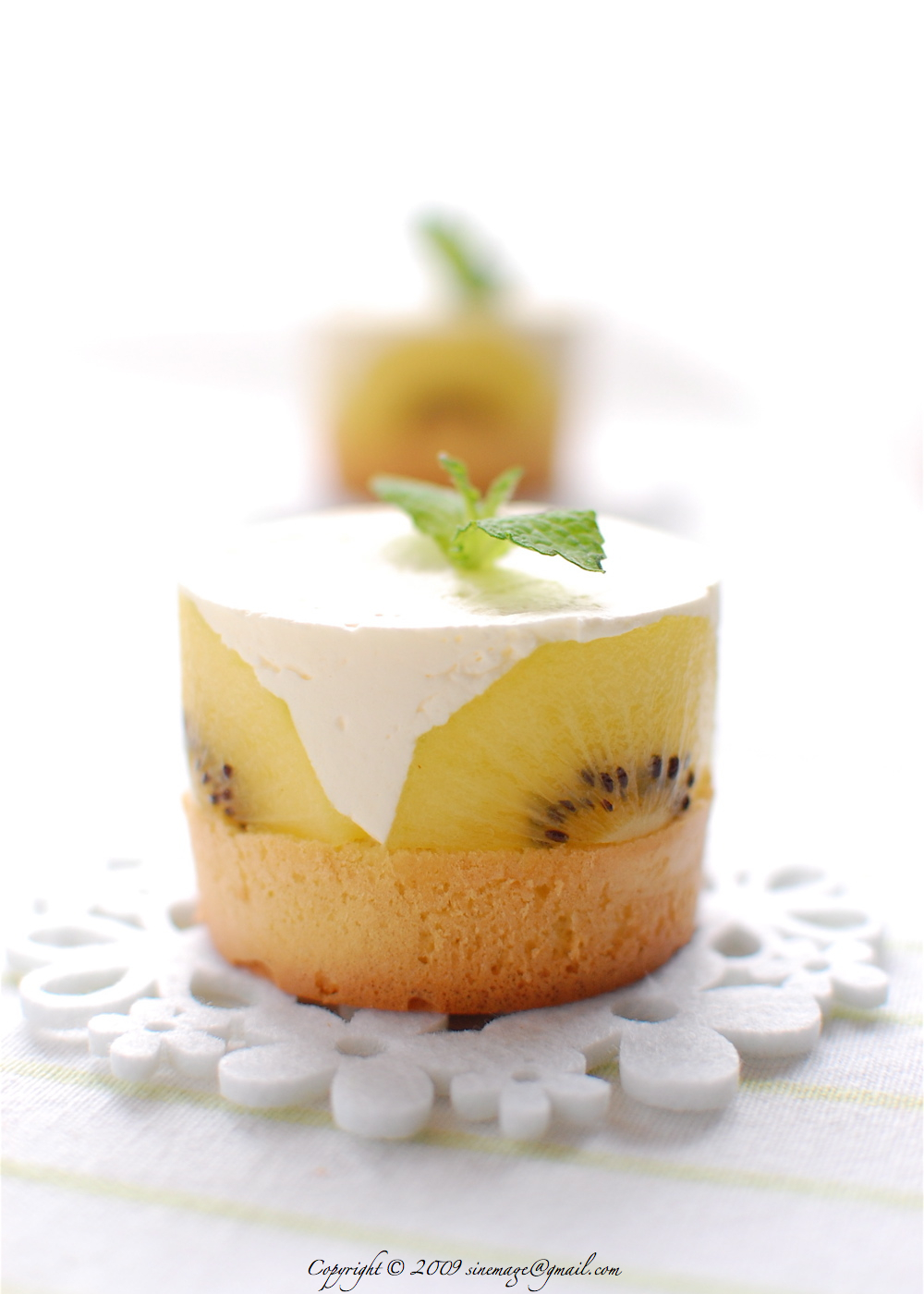 Hope you are having sweet moments too !
Kiwi Gold Cakes Printable Recipe
______________________________________________
Agréable moment, en profitant du soleil confortablement assise dans un fauteuil, placé judicieusement devant la fenêtre tout en écrivant ce billet…
Agréable moment, en bavardant jusqu'à tard dans la nuit avec une copine que je n'ai pas revu depuis un long moment…
Agréable moment, en apprenant qu'une amie attend un heureux évènement pour le début de l'année prochaine !
Tout aussi agréables -au palais-, ces petits gâteaux s'inspirent du fraisier. Une version exotique avec de la génoise, du sirop, de la crème chantilly et des kiwis - de saison ici- et qui peut être faite avec des kiwis verts bien que le kiwi gold soit plus sucré.
J'espère que vous aussi, vous vivez de bons moments !
Recette Imprimable entremets au kiwi
---
Comments
Eglé, thank you for your sweet words ! I wish we could share all these fruits together… MyCookingHut and Rosa thank you girls ! Heather, in fact after you are done with the génoise it's not that difficult to assemble. But like usually it's quicker to eat ! ;) Vanille
How gorgeous is that? Small delicious pieces of art. Looks great. I bet that it tastes even more delicous than it looks. And you're so lucky to have all thes exotic fruits near you. I've never tasted kiwi gold fruit in my life. Eglė
Looks great! I like it! Never had kiwi gold before! A must try for me! mycookinghut
Such a pretty dessert item! Those little cakes look delicious… Cheers, Rosa Rosa
*Sweet indeed! Look painstaking to make, but you're a pro and they are lovely. Cheers, *Heather** heather
Super jolis ces petits entremets au kiwi! Tes photos sont toujours aussi belles. J'espère que tout va bien pour toi! Botacook
Elles sont magnifiques ces gourmandises! J'en prendrais bien une petite bouchée! isa
Those are perfectly beautiful! Such exquisite colours. shaz
This look amazing. Can you tell where I can find recipe. meg
Breathtaking!! Ria
Very pretty! I love that first photo, great use of dof. Feel like picking up that spoon. Elisa
These are amazing. Are there any specific tips or techniques for such perfect assembly? Help us amateurs out! Jack
Complimenti per la ricetta, questo piccolo dolce è una vera delizia. Ciao Daniela daniela
Botacook, merci. Nous allons enfin vers les beaux jours et rien que ça, fait tout une différence pour moi ! Isa, merci ! Shaz, thank you. The half slice of kiwi gold looks like a sunrise/sunset, don't you think so ? Meg, thank you. I did not write down any notes when I did these cakes. I used this génoise recipe but I roughly prepared the chantilly and syrup. I will try to update the post later with the recipe. Ria thank you ! Elisa, thank you ! Honestly, I was not so happy with the pics…You cheer me up ! Jack, thank you. I'm a total amateur ! You will need for sure to have pastry rings and be careful to make these cakes. I'll try to post the recipe soon. Daniela, grazie. I guess you would like the recipe too. I'll try to update this post soon. Vanille
Moi aussi, je seconde toutes les requetes de recettes…. Sylvie, Rappahannock Cook & Kitchen Gardener
The cake is so beautiful! I really love gold kiwi! Anh
So beautiful! peabody
La premiere photo est a tombe! Superbe! Comme les gateaux! J'adore les kiwi gold..ca ce mange trop facilement :) Tartelette
Oh wow, that looks soooo delicious. Definitely going to have to put this on my list of things to try. Kiara
That is beautiful! I've never had a gold kiwi, ours are all green - will look out for them now! Nicisme
Thank you everyone for your sweet words ! Vanille
They look sooo delicious! I'm going to try and my some myself. razzbuffnik
Thanks! I need to go find myself some pastry rings and experiment :) Jack
That is very lovely, indeed! I've never seen kiwi with such a brilliant color yet! I have a couples of pastry rings (3"x3") but to tell you the truth I could never get the individual cakes to look so clean, crisp and smooth like yours! Well, I'm a beginner with baking and such so I guess I'll have lots to learn/ practice?! What size were your little cakes? Did you fill up the cream chantilly all the way to the top of your rings? Thanks for sharing and for posting! Adelina
Adelina, thank you. As I mentioned in the recipe the cakes are 5.5cm diameter and 4cm height. The chantilly is filled until the top. I'm sure you will do better next time. Just take time and take great care and I'm sure everything will be fine ! Vanille
your photos are beautiful and brilliant. such exceptional talent!! i will visit just for the beauty here. yael miller
[…] that are inspired by the natural produce of New Zealand and La Réunion, where she grew up (f.ex. kiwifruit cakes, coconut cream with passion fruit). I'm so jealous that she has access to feijoa, a fruit […] Food blogs I love: @ Downunder | nadel&gabel