My Art Beat
July 29, 2009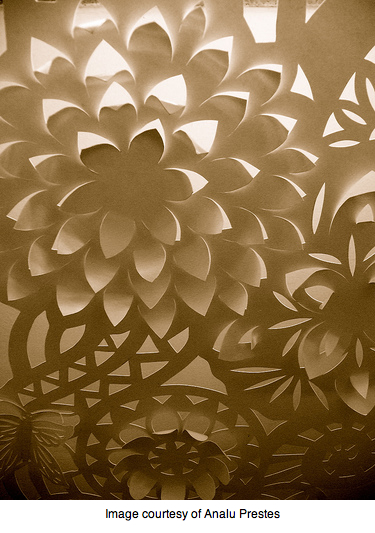 I discovered not so long ago the work of Brasilian artist Analu Prestes and just fell in love with.
She paints and also works with paper. Transforming paper into a dentelle [lace]… It's just amazing ! I encourage you to go and visit her site or follow up her work.
Still Art but this time locally, there will be the NZ Affordable Art Show this week-end -31 July/2 August- in Wellington.
A good occasion I'll not miss, to discover and be inspired by NZ artists !
______________________________________________
J'ai découvert très récemment le travail de l'artiste brésilienne Analu Prestes et j'ai eu un coup de coeur !
Elle peint et travaille aussi le papier en le transformant en dentelle … Etonnant !
Je vous encourage vivement à visiter son site ou à suivre son travail.
Toujours dans le domaine de l'art, mais cette fois-ci localement, se tient le NZ Affordable Art Show ce week-end -31 juillet au 2 août- à Wellington.
Une excellente occasion que je ne manquerai pas pour découvrir et m'inspirer d'artistes locaux !
---
Comments
Amazing, especially when you see it's done with paper! Nicisme
Thanks for pointing out Analu. I love discovering new artists :) pandaball
Nice work! Cheers, Rosa Rosa
Oh my… I'm off to visit her site. Cynthia