Ma Cabane...
July 16, 2009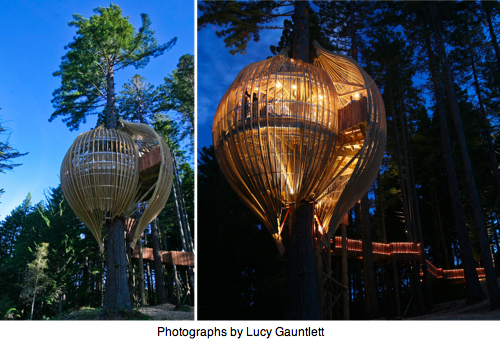 Luckily you rang at the door, I would have fall asleep again… Or should I say hibernate ?!
Look, I want to show you a house today. No, there's no doorbell on this one, but it's like the one you were dreaming about when you were child…
What ? Don't tell me you have never dream to have a tree house ?! Are you scared of heights ?
Ok, right… It's not actually a house, it's a similar concept. It was first built as a restaurant and now the place is available as a venue for hire.
Don't you like the organic shape ? There are more pictures and sketches there. Go and have a look !
No, I didn't have the chance yet to visit it. It's 45 minutes drive from Auckland…So that's 10 hours drive from Welly…
And what I did then ? Well, I moved around the furniture a little bit here, in my own hut. Hope you like it...
I also take this opportunity to thank You for stopping by, participating and being supportive !
______________________________________________
Heureusement tu as sonné à la porte, je serais encore tombé de sommeil… Ou devrais-je dire hiberner ?!
Regarde, je veux te montrer une maison aujourd'hui. Non, il n'y a pas de sonnette sur celle-là, mais elle est un peu comme celle dont tu rêvais quand tu étais enfant…
Quoi ? Ne me dis pas que tu n'as jamais rêvé d'avoir une cabane dans les arbres ?! Aurais-tu le vertige ?
Ok, bon… ce n'est pas exactement une maison, mais le concept est similaire. Ca a été construit en premier lieu comme restaurant et à présent les lieux sont disponibles à la location.
N'aimes tu pas la forme organique ? Il y a davantage de photos et croquis là. Vas-y faire un tour !
Non, je n'ai pas encore eu la chance de visiter. C'est à 45 minutes d'Auckland… Soit environ 10 heures de route de Welly…
Et ce que j'ai fait ensuite ? Ben... j'ai bougé un peu les meubles ici, dans ma propre cabane ! J'espère que ça te plaît...
Je profite aussi de cette occasion pour dire merci à toutes celles et ceux qui s'arrêtent par ici, participent et m'encouragent !
---
Comments
How cool is that? The tree house :) As a child I dreamed to have one. Seriously. With all that girlish stuff - flowers, curtains, coffee table, etc. But I didn't. Hopefully it's never too late :) I love your new blog design. Looks summery ;) Eglė
What a great idea and gorgeous place! Looks perfect for events :) May
Well, this is very interesting, I would love to have a party up there! Next time you are near Auckland let me know :-) Ciao A. Alessandra
Eglé, a tree house with the comfort of a real house that would be fun ! ;) May, that's indeed an unusual place to celebrate ! Alessandra, I would be delighted to meet you and visit this cabane… Vanille
Nice design, pleasing to the eye! I'd love to have a mooch around the tree house, 'tis cool! Nicisme