Pour Finir...
December 23, 2008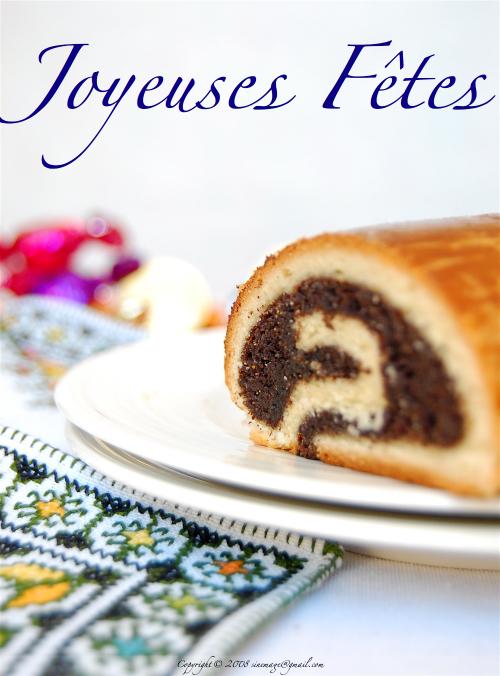 Pour finir le repas de fête et pour finir l'année…
A little treat that will be on our table tomorrow night. The traditional Hungarian Christmas dessert : Beigli.
Filled with poppy seed or ground walnuts, this dessert is one of my favorite. It can be prepared one or two days ahead and stored in a tea towel until Christmas diner.
I also take this occasion to wish you all a good time with family and friends for this Christmas and New year's eve !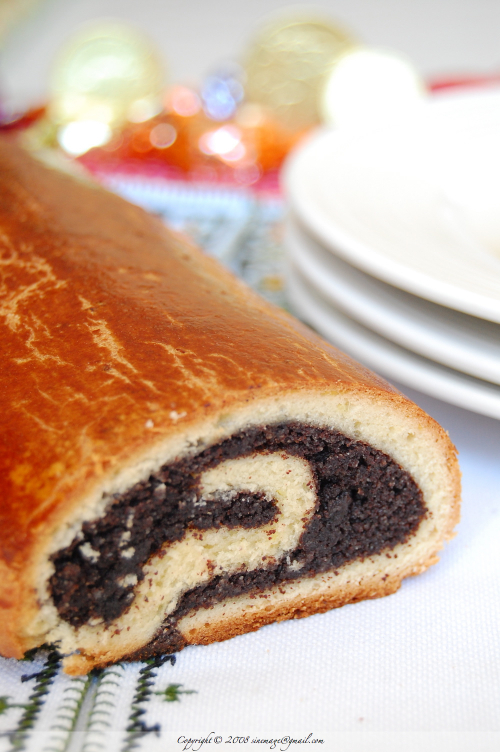 Poppy Seeds Beigli – Makos Beigli 

Makes 1 Beigli

Dough

2

50gr flour 100gr unsalted butter (room temperature) 1 egg + 1 egg yolk 25gr caster sugar 60ml lukewarm milk 3gr instant dry yeast 1 pinch of salt Lemon zest 1 tsp vanilla sugar

Filling

1

50ml milk 200gr ground poppy seeds 30gr caster sugar 2 tbsp honey   Proof instant dry yeast in lukewarm milk and a teaspoon of sugar //  In a large bowl mix flour and proofed yeast+milk  // Add egg, sugar, vanilla sugar, butter, salt and lemon zest // Knead quickly the dough until smooth and roll it in a cylinder shape // Cover the dough with a clean and dry tea towel and let it rest for half an hour on the countertop // In a large bowl mix ground poppy seeds, milk, sugar and honey // Preheat oven to 200°C // Roll down the dough on a slightly floured surface and spread all over the poppy seeds mixture  // Roll the dough on itself and place in a large glass dish or on a oven tray covered with baking paper // Brush the beigli with egg yolk and bake for 20-25 minutes // Remove from the oven and directly sprinkle water on the beigli. Place on a cooling tray and cover the beigli with a clean and dry tea towel.

Beigli aux Graines de Pavot Recette Imprimable
This post has also been submitted as an entry to Sweet NZ, hosted this month by Bron Marshall.
---
Comments
Beautiful! That's a delicacy I love! Happy Holidays/Joyeuses Fêtes! Cheers, Rosa Rosa
We call this "Cosonac" in Romanian. Whatever the name,it's amazingly wonderful! I can never make it as good as my mom and grandma, however……… Happy Holidays! Mona
Beautiful! Merry Christmas Vanille & Paprika, you guys take care. xxx Bron bron
Merry Christmas! mycookinghut
Merry Christmas Vanille, hope you had a wonderful day! That looks wonderful, deliciously different! Nicisme
Tiens! C'est la version hongroise de la buche de Noel? Sylvie, Rappahannock Cook & Kitchen Gardener
My family (Hungarian) makes something that looks identical, but we call it Kalács. Yum! Beatrice
[…] Poppy Seed Beigli […] YeastSpotting Holiday 2009 | Wild Yeast
Makowiec in Poland. We use honey, nuts ad dried fruit in poppy seeds filling. The best cake for Christmas. Merry Christmas! przytulanka
This looks like a gorgeous dessert! I love poppy seeds in sweet things. Joanne
What a wonderful loaf, I love bakes with poppyseeds. Happy holidays. Lien
Looks utterly gorgeous. Wishing you a very happy new year xo Couscous & Consciousness
Love to have this recipe! However this is the very first time that I read to sprinkle water on the beigli when they come out of the oven! Why is this necessary? Sylvia simko
Sylvia, it helps to keep soft the beigli. Vanille